BIG RED BUS – Oct 1st @ My Aeon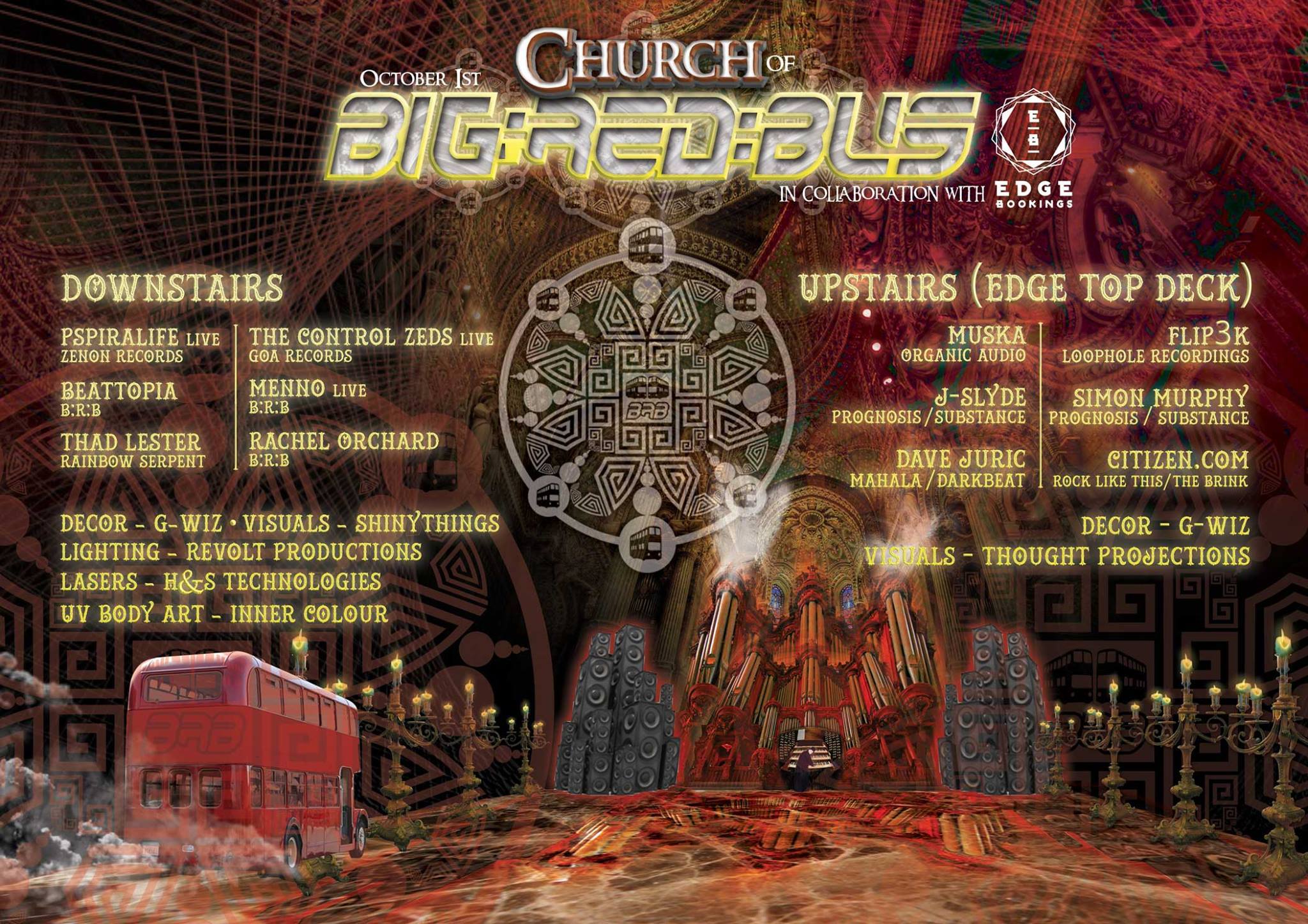 We don't want to preach or anything but it's a simple fact of life that the only place you will find your god is on a BIG:RED:BUS dance floor!
So put your hands together, bow your heads, and pray that you don't miss the 1st October edition of Melbourne's premiere underground dance music event – because if you do, you're going straight to hell.
So whether you are heaven bound in our CRYPT with the likes of PSPIRALIFE, THE CONTROL ZEDS, THAD LESTER, MENNO and RACHEL ORCHARD…
…or being Psalmed to the max in THE EDGE PULPIT by MUSKA, SIMON MURPHY, FLIP3K, J-SLYDE, CITIZEN.COM and DAVE JURIC…
…you are assured of a 100% guaranteed religious experience.
May all your prayers be answered and you meet your maker with a smile on your face and excellent tunes in your ears.
Sound sermons from:
THE CRYPT (DOWNSTAIRS):
20:00 Beatoppia (B:R:B)
22:30 Menno (B:R:B)
00:00 Thad Lester (Rainbow Serpent)
01:30 Rachel Orchard (B:R:B)
03:00 Pspiralife LIVE (Zenon Records)
04:30 The Control Zeds LIVE (Goa Records)
EDGE PULPIT (UPSTAIRS):
00:00 Dave Juric (Mahala / Darkbeat)
01:00 J-Slyde (Prognosis / Substance)
02:00 Simon Murphy (Prognosis / Substance)
03:00 Muska (Organic Audio)
04:00 FLIP3k (Loophole Recordings)
05:00 Citizen.com (Rock Like This / The Brink)
(all times quoted do not take account of daylight savings and the clocks going forward 1 hour at 2am – set your watches as you leave the club at 6am – which will be 7am by then :))
Where: MYAEON – 791 Sydney Rd, Brunswick
When: 1 October 2016 : 22:00 – 06:00
How much: $15 B4 Midnight : $20 after (or free if you bike it there)