For The Record Podcast One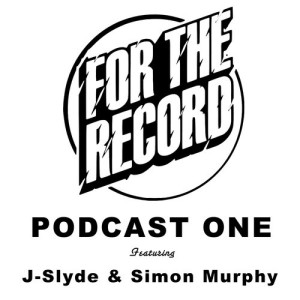 In the lead up to the compilation we're putting together for local label For The Record, Simon Murphy and I were invited to mix their first Podcast!
Head of the label, Louay, hosts for the duration with Simon and I featuring with an hour long mix each. Over 2 hours worth of music from the likes of Gui Boratto, Maceo Plex, Super Flu, Gabriel Ananda, Quivver, Ryan Mathiesen, Kobana, a sturdy contingent of FTR's faithful and many more!
I step up for the first half with a down-beat progressive house styled mix flourishing with summery vibes and beautiful melodies. Simon takes the reigns for the second half and ramps things up with a more dance-floor friendly atmosphere beginning with slamming prog and finishing things off with his coined styled of melodic techno.
The mix is now available to download and stream via FTR's Soundcloud page!
J-Slyde Track List:
01. Parra for Cuva ft Anna Naklab – True Thoughts (Original Mix) [NeedWant]
02. Ryan Mathiesen – Dark Horse (Nutso Remix) [Dantze]
03. Discey – Ashram (Original Mix) [Ibiza-Unique]
04. Geist – The Lost But Sublime (Original Mix) [Asymmetric Record]
05. Adam Helder – The Heat (Original Mix) [Freaky Vibes]
06. Moser – Keep Rules (Original Mix) [Milk & Sugar]
07. Gui Boratto ft Come and hell – Take Control (Original Mix) [Kompakt]
08. Ryan Mathiesen – Nothing New (Nicone Ratterloopbox Cut)[Dantze]
09. F3 – Julia (Original Mix) [Toolroom Longplayer]
10. Andrea Fissore – Planet Groove (Original Mix)[Hotfingers]
11. Kobana – Bees World (Original Mix) [Proton Music]
12. Oona Dahl – Somewhere We Can Go (Tini Tun Remix) [Stripped Recordings]
13. Louay – Linguisticts (Rob Zile Remix) [For The Record]
14. Marta Kode – Carnivorous (Original Mix)[For The Record]
Simon Murphy Track List:
01 Louay – Linguistics (Original Mix) [For The Record]
02 Marco Miroir – Love (Kiki Strings Attached Mix) [Paso Music]
03 Bowline – DynoBooty (Quivver Remix) [Visceral]
04 Super Flu – Jo Gurt (Stephan Bodzin Remix) [Monaberry]
05 Alejandro Arroyo – The Depth [CHANGE AUDIO]
06 Nila – Deepsine (Minimule Remix) [For The Record]
07 Uone – Gang of Snortles [Tonkind]
08 Maceo Plex – Conjure Bots [Minus]
09 Sutja Gutierrez – Your Rules (Dubspeeka Remix) [Suara]
10 Tom Real & SQL – Fabric [Flow Vinyl]
11 Adrian Hour – Rhythm Cats [Suara]
12 Malte, Mr Rod & Paul Brcic – Grow (Joel Mull Remix) [Gastspiel Records]
13 Gabriel Ananda – Earthed [Click Records]