Interview & Substance Family Fiesta – May 26th @ My Aeon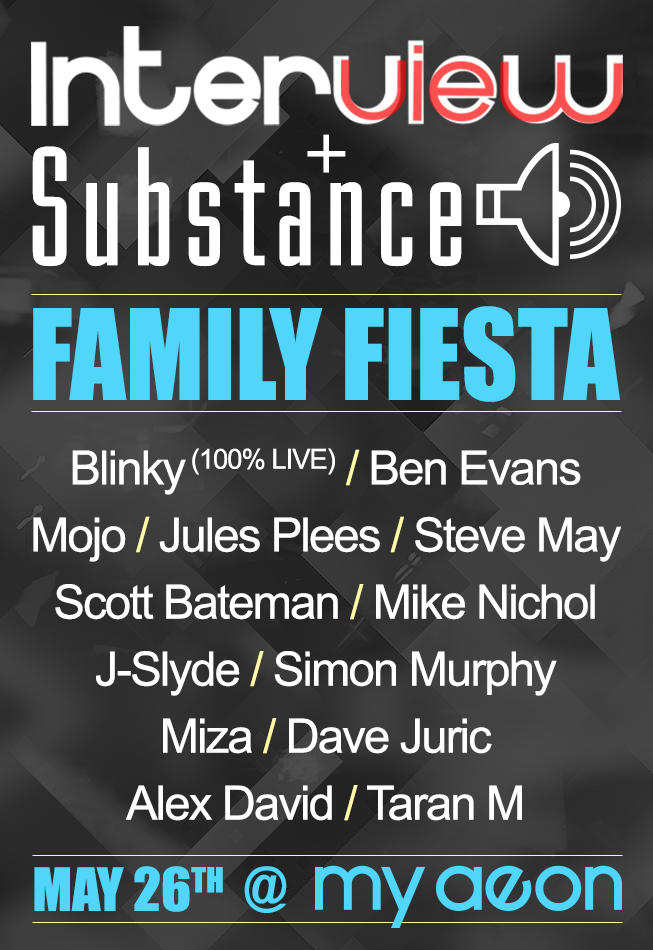 We're back with one hell of a shakedown this May 26th!
Interview Crew and Substance are bringing it way back to the glory days where we all came together in beautiful dance music madness and mayhem. Ready the babysitter you old farts.
It all began in December 2005, at a wonderful city bar called Tilt Bar. Appropriately named due to the overwhelming amount of action this wonderful venue dished up. A couple of Technics 1200's and a bunch of kids got together with thier mates and told Melbourne exactly what was going to go down. TUNES.
For many years after its inception, Interview grew and grew and became a place of worship for progressive and trance heads Australia wide. We all loved everything that was being created in this intimate and house party style event and loved to catch up with each other each month.
Leading on from the Interview crew, we had the incredible pleasure of seeing the Substance crew blast out onto the circuit and reap havoc in thier own brilliant way accross the scene. We are proud to incorporate Substance into the proceedings this year and bring the vibe in tighter and wilder than ever.
After such a long wait, Its now time to catch up with 'our chosen family, maaan' and laugh at how old we've all become. Leave responsibility at the door whilst the following caretakers show you how to misbehave again.
INTERVIEW (Downstairs)
Blinky (100% LIVE)
Ben Evans
Jules Plees
Mojo
Scott Bateman
Steve May
Mike Nichol
SUBSTANCE (Upstairs)
Dave Juric
Miza
J-Slyde
Simon Murphy
DJ Taran M
Alex David
PRICE
$15 On the Door
$10 Guestlist
Limited to 400 Patrons, first in best dressed.
Doors open 10pm till very late.
WHERE