Mahala ft Dubspeeka & KIKO – July 1st @ Railway Hotel
Back once again with my homies from Mahala! On July 1st they'll be dropping their biggest event to date with two seriously talented internationals on the bill. Grab tickets while they're still available as this is going to sell out!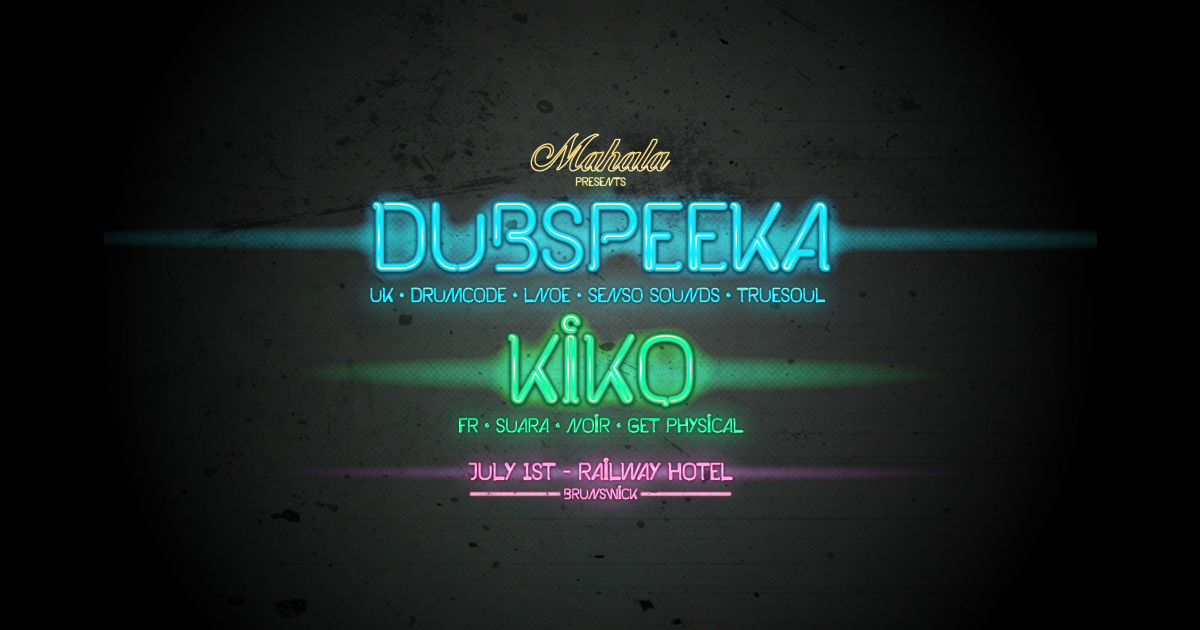 Mahala presents
dubspeeka (UK)
[Drumcode, Last Night On Earth, Senso Sounds, Truesoul]
KIKO (FR)
[Suara, Noir, Get Physical Music]
Friday July 1st – Railway Hotel Brunswick – 9pm – late
What is old is new again, sounds will spark and fade and reignite once more. At the end of the day, isn't it all just a little bit of history repeating? Mahala are proud to present two musical icons alongside some of Melbourne's most talented and diverse DJs across the entire Railway Hotel venue.
Dubspeeka, hailing from Bristol was a founding member of the seminal dance act Kosheen. You may have heard of them. Over the past 24 months however he has reinvented himself as as a purveyor of sleek, heavyweight techno. His productions have a deep refreshing rawness that cuts through the dance floor, a lifetime of fine-tuning his ear in the studio has paid dividends. He is undoubtedly one of the hottest names in techno right now.
KIKO, one of the true French pioneers in the 1990s. Slightly unsung, yet profoundly influential. Having worked alongside THE HACKER, OXIA, Olivier Giacomotto on esteemed labels such as International Deejay Gigolo Records, Turbo Recordings and NOIR his most recent work presents an amalgamation of this journey through time, with an entirely modern edge.
This will be a night to remember.
Local Support from:
Dj Kiti, Stockholm Syndrome, Caine Sinclair, Dave Pham, l, Luke Mcd, Tahl, Scott Freedman, Dave Juric, J-Slyde, Luke Agius, Trent McDermott, Daniel Cuda, Machete, Dave Hutton, dayle, Brooke Powell & Rawman