Quivver & Darin Epsilon – July 30th @ Railway Hotel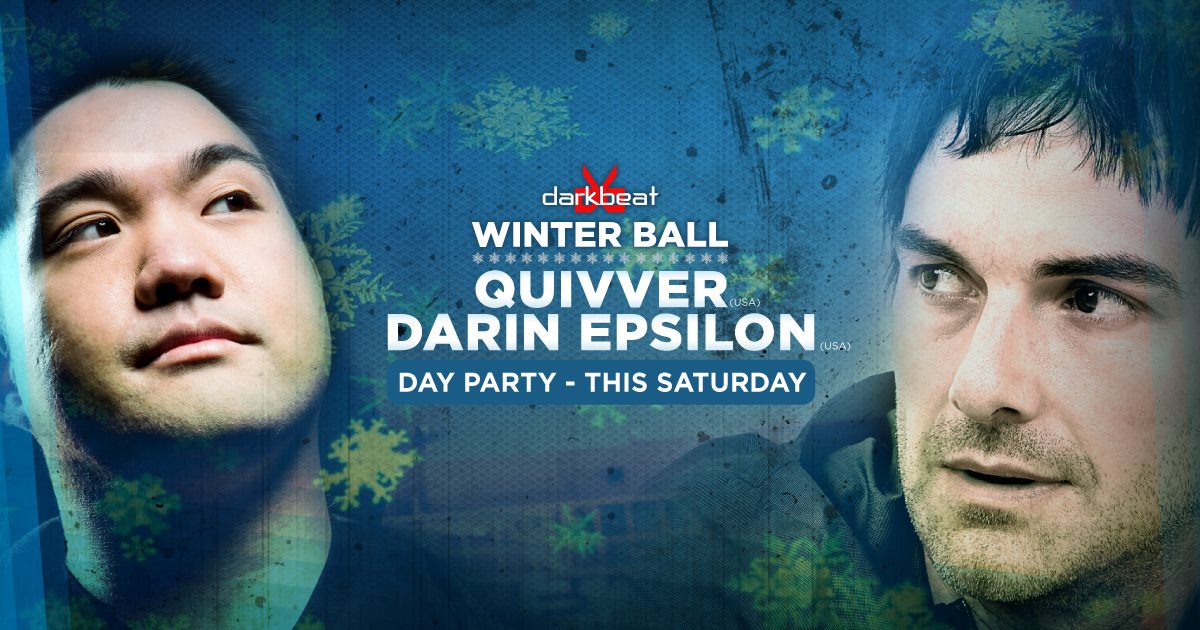 While you patiently endure another brutal Melbourne Winter, here at Darkbeat it's a cause for celebration; we're transforming the Railway Hotel Brunswick into an exquisite Winter Wonderland for the Inaugural Darkbeat Winter Ball! Prepare to have your senses dazzled as you uncover wild and wonderful treats throughout the entire complex.
No ball would be complete without the lavish dressing of YOU, our beautiful patrons. So bust out your finest Masquerade costume or dust off your favourite festival frock and come lose yourself for a day night of debauchery and tomfoolery!
Our soundtrack for the day includes, direct from the U.S.A., Quivver (aka John Graham/ Space Manouvers/ Tilt) and Darin Epsilon. Together accumulating over 40 years experience playing all over the globe and releasing music on every significant label, they offer a throwback to everything that was great about the early days of raving while simultaneously capturing the youthful energy of the contemporary scene. Come delight in their deep basslines, plethora of tribal rhythms and beautifully warm melodies.
To make sure the winter chill doesn't strike, there will be special food offers throughout the day, an open fire in the bistro and heaters throughout the complex.
Come down and get toasty with us and rave away the winter blues.
---
QUIVVER (AKA JOHN GRAHAM)
John Graham aka Quivver started his production career in the early 1990s, and has been a household name within the electronic music scene ever since. That's right, over 25 years in the industry and still going strong. He is best known as Quivver, but has invented a host of other monikers, including Space Manoeuvres, Stoneproof, Skanna and Tilt, each representing a different shade of his eclectic production sound and each giving an idea of his true versatility. He's really done it all, his DJ CV is as impressive as anyone out there, he's laid vocals down with acts like Hybrid, Planet Funk and Darren Emerson and has had his productions signed to all of the big labels. John was also one of the first in electronic music to explore the film, television and gaming worlds working on CSI: NY, composing for "The Taking of Pelham 123," while also producing the music for video game trailers including "Transformers", "Call of Duty" and "Batman: Arkham City Riddler." He is a true legend of the electronic music world.
---
DARIN EPSILON (USA)
Darin Epsilon is testament with unbridled talent, hard work, passion, pure dedication to his art you can succeed in this fickle industry. Inspired by the icons from the late 90's, acts like Leftfield, Paul Oakenfold, Sasha & Digweed Darin put in work. Starting out in a record store and running a college radio station he launched his record label Perspectives Digital in 2010. In 2011 he won a DJ competition run by Beatport and John Digweed and since then has blown up in a big way.
Since then he has also been invited to perform at the world's biggest festivals including Ultra Music Festival, Amsterdam Dance Event and South by Southwest, produced records alongside industry heavyweights like Hernan Cattaneo, Robert Babicz, Quivver, Matthew Dekay, Cid Inc and Omid 16B released on labels Sudbeat, Renaissance, Hope Recordings, Selador, and Perfecto. Darin Epsilon is now truly arrived as one of progressives shining stars.
---
WHEN
Sat, July 30th – 12pm Midday – Late
** DAY PARTY **
WHERE
Railway Hotel – 291 Albert Street, Brunswick
TICKETS
---
SUPPORT LINE UP:
Jamie Stevens
Mish'chief
Simon Murphy
Thad Lester
Chris Meehan
Dave Juric
Phil K
Luke Chable
Scott Freedman
J-Slyde
Lister Cooray
Sebastian Wild
Louay
Dave Hutton
Trevor Rose
SoulWhiteMan
Sean Quinn
Rollin Connection
Matt Radovich
Jayson Holden
Technich
DJ Rick Inserra
Broken Spires
Shane Cooray
AARON SMILES
Dr.Deyon
Beatsbybarry
Trojan
Slater