Technosis – April 18 @ Loop
April 18th usher's in our first Technosis takeover! We've been scheming on this one for a little while now and after numerous comments about our Prognosis events becoming more and more tech-based, we thought it time we finally did a proper, fully tech dedicated event.
I've also put together a cheeky promo mix of the type of music I'm planning to play on the night. Hit my Soundcloud for a free download and read on for all the juicy deets about the event!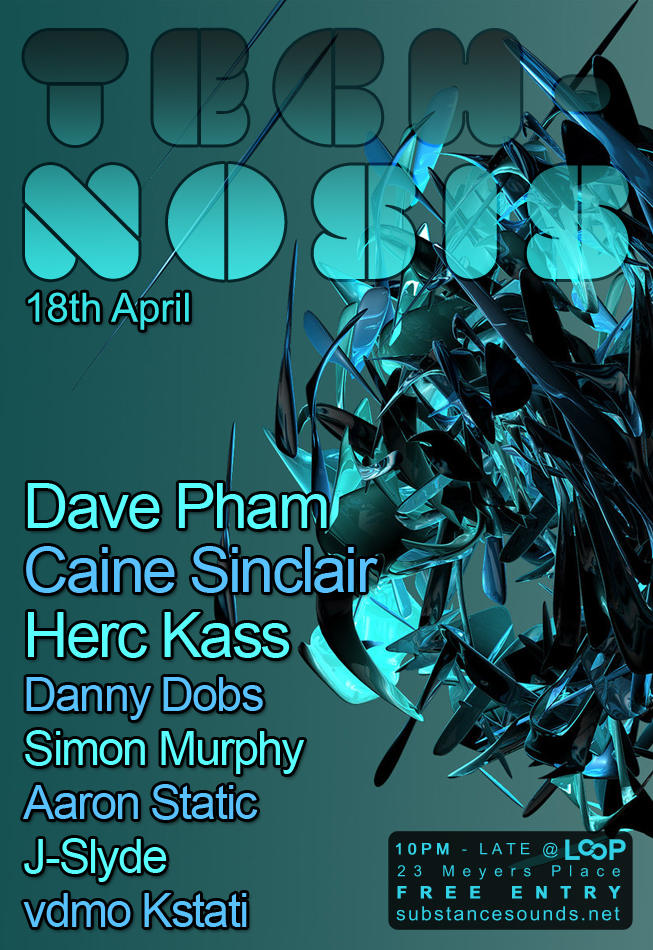 IT'S A TECHNO TAKEOVER!!!
The techno warriors have taken siege and are finally getting their way muahahaha!!!
Well that's not entirely true since Prognosis has an open musical policy and refuses to be bound by genre… BUT… Murphy got sick of people always asking if it was a prog night… Sooo we present a tech-heavy event TECHNOSIS with the usual Prognosis twists and turns. The musical journey will still be there but layered with a healthy dose of techno action!
Firstly, we have recruited one of Australia's undisputed techno kings, Dave Pham to lead the charge, driving his forklift into the depths of techno tablist territory. Playing alongside him will be techno aficionado Caine Sinclair who always packs a punch. Joining the lads will be Nosis favourite Herc Kass who is back for another fix after a summer filled with festival madness. Making his debut will be local legend Danny Dobs who just got back from an international tour and has a bag of tricks ready to be unleashed. With these warriors at the helm, Loop is set to be treated to a feast of tasty techno beats.
Backed up by residents Aaron Static, J-Slyde and Simon Murphy, the techno takeover will be spliced with loopy warehouse goodness you won't want to miss. Chief visual conductor vdmo Kstati will be weaving his magic on the big screens and has some new tricks up his sleeve. Get in early… it will be a BIG one!!!
►►► LINEUP ◄◄◄
Dave Pham
Caine Sinclair
Herc Kass
Danny Dobs
J-Slyde
Simon Murphy
Aaron Static
►►► VISUALS ◄◄◄
vdmo Kstati
►►► WHERE ◄◄◄
Loop – 23 Meyers Place, Melbourne CBD
Google Maps Link
►►► WHEN ◄◄◄
Saturday, 18th April – 10pm till LATE
►►► PRICE ◄◄◄
100% FREE!!