Bad Party @ Match – Thurs, March 17th
The Bad Party boys have invited me down to help launch their new weekly Thursday night down at Match Bar. Going by the caliber of everything BP touch and the quality of Match as a venue, this is set to be one tantalizing mid-week event. Im being thrown out of my comfort zone and will be playing a selection of disco infused house. Very much looking forward to it all! Full deets below…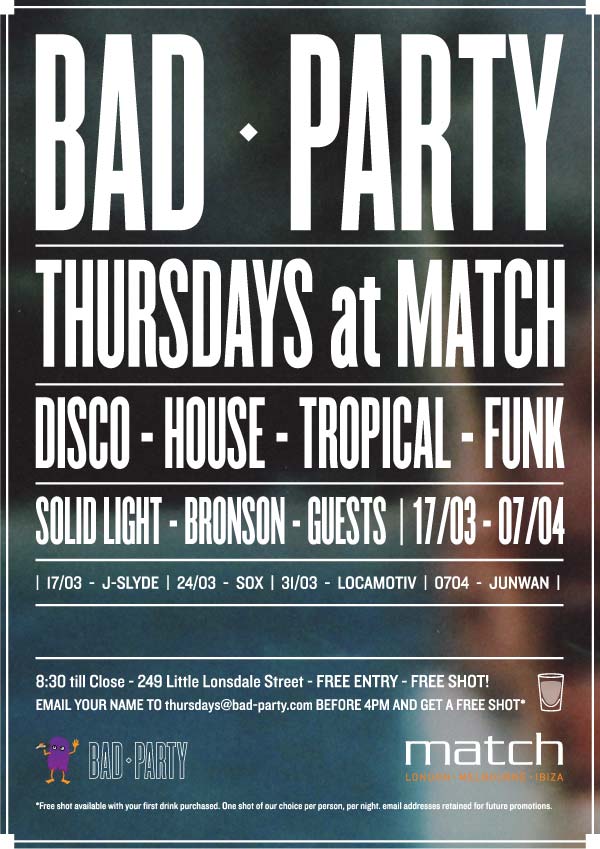 More often than not, we'll say yes to a drink and yes to a night out
looking for the right tempo to shake a glass full of anything to.
That is why we (the Bad Party Records DJ's) are absolutely taking control
of the sound system and saying YES to THURSDAY nights at Match Bar.
Every THURSDAY from 8:30PM, join SOLID LIGHT, BRONSON and Bad-Party
Records' friends at Match Bar & Grill (249 Little Lonsdale Street) for a
range of new music on our label, classic-house, tropical-rhythms and
disco-boogies. We'll be premiering some of NICK LYNAR's upcoming release
'DIAMOND BLOOD' as well as regular classics from the archives.
If you don't know Match Bar, expect pure quality from their food & drinks
menu, tremendous staff and a truly superior audio platform to get things
perfect. It's nestled right in the heart of the C.B.D. overlooking the
state library.
BONUS: email your name to "thursdays@bad-party.com" before 4pm on Thursday
to receive a free shot when you grab your first drink! YEEOW!
http://www.bad-party.com/
http://www.matchbar.com/
Facebook Event
Bad Party Montser