Bad Party Thursdays!
The Bad Party boys have secured themselves a weekly Thursday night residency at Match Bar! As a result they've invited me down for a handful of dates. Disco and lay-back house grooves, a heap of tasty cocktails and regular drink specials will be the order of the night. Come down and start your weekend early! Free entry all night long. Full deets below.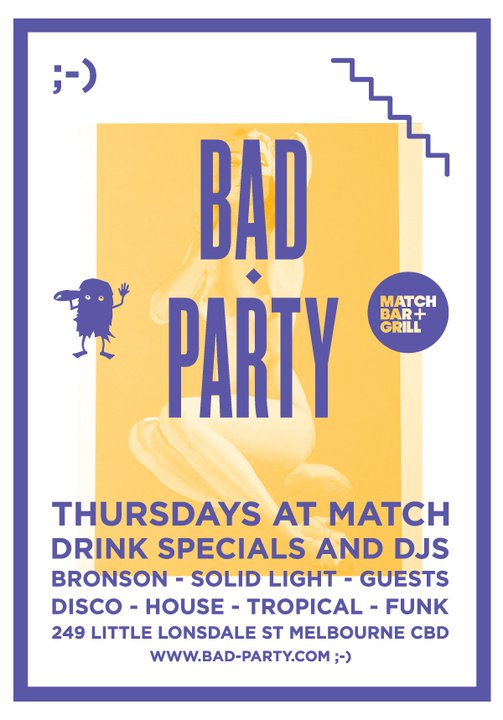 BAD PARTY THURSDAYS @ MATCH
We are pleased to announce that we will be continuing BAD PARTY THURSDAYS at Match Bar!
We couldn't say NO to huge jugs of specially designed jugs of cocktail punch. We couldn't say NO to the bar menu. And we couldn't say NO to turning what used to be the most boring night of the week into a party ; -)
From the 28th of April and beyond, we (BAD PARTY dj's & friends) will be playing brand new stuff from our label (Bad-Party Records) plus all of the usual DISCO-HOUSE-TROPICAL-FUNK classics. Regular drink specials, great food/bar menu and a great atmosphere.
Every Thursday night from 8pm till Close.
Match Bar & Grill (QV Building, opposite the State Library)
LEVEL 1, 249 Little Londsdale Street, Melbourne CBD.
Guest DJ's include:
♫ 28/04 Sox + Bronson
♫ 05/05 J-Slyde + Solid Light
♫ 12/05 Sox + Bronson
♫ 19/05 J-Slyde + Solid Light
♫ 26/05 Loca Motiv + Bronson
♫ 02/06 J-Slyde + Solid Light
♫ 09/06 Jun Wan + Solid Light
♫ 16/06 Sox+ Bronson