Break Skool @ Suede Bar – Sept 3rd
New kids on the block, Break Skool, are gearing up for their second event down at Suede Bar in Collingwood. Concentrating on all beats of the broken variety, these guys know how to party. Free entry all night, at a fantastic lay-back venue. Beer shall be flowing, as will the funky beats!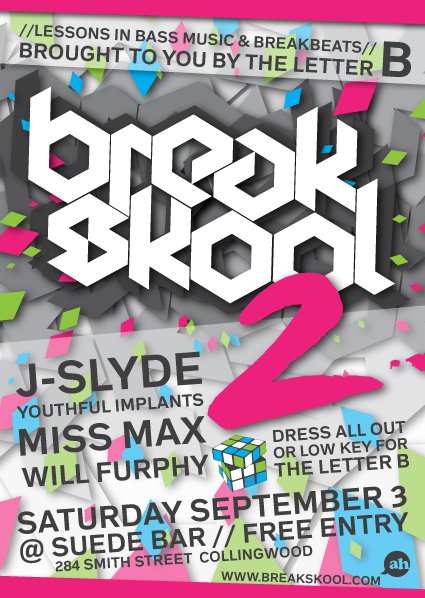 Time to go back to skool. Breakskool that is.
Learn from our master teachers who love to educate on the subject of broken beats;
J-Slyde
MissMax
Youthful Implants
Will Furphy
Join us in our amazing basement classroom – Suede Bar – this is no portable on the oval, it's a fully fitted out first class breakbeat classroom.
We have no uniform at our skool but if you are feeling adventurous then dress all out or low key for the letter B!
FREE ENTRY
Drink specials for those who get down early!
3rd September 2011
Suede Bar – 284 Smith St, Collingwood
9pm – 3am
Like the Breakskool Page to keep up to date:
http://www.facebook.com/br​eakskool
or follow us on twitter:
http://twitter.com/breaksk​ool