Breakskool vs Samsara – May 24th @ My Aeon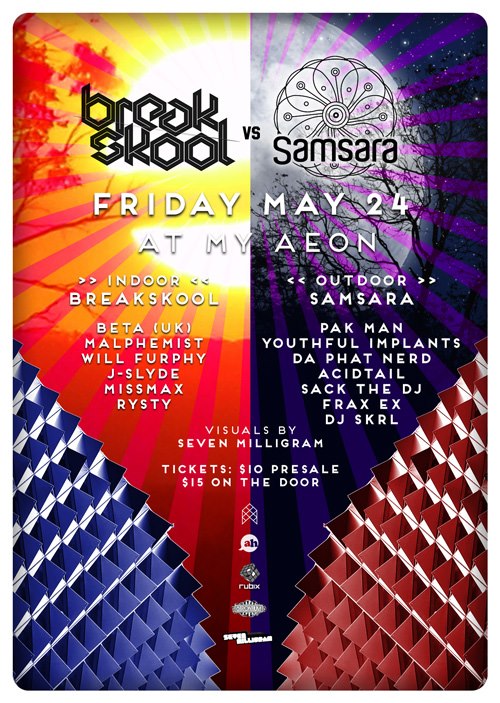 What happens when 2 quality Melbourne crews fall in love?
AWESOME HAPPENS 😀
Continuing the magic from Breakskool Invaders opening the doof at Samsara last October we've hooked back up to make sweet, sweet… music.
Between 2 talented crews this event has break beats, jungle, drum and bass, glitch, progressive, progressive psy, psy breaks and balls to the wall banging psychedelic trance.
Not only do we bring the EPIC tunes there will be amazing and talented performers, live art, beautiful decor and sweet visuals!!!
Friday May 24th – Doors open 10pm
My Aeon, 791 Sydney Road, Brunswick
Online pre-sales $10 – https://breakskool-vs-samsara.ticketbud.com/myaeon
Entry on the door $15
– BREAKSKOOL STAGE –
Beta (UK)
On his first Australian tour we are stoked to have London based breakbeat producer BETA play his debut Melbourne show. He started out Djing nuskool breaks and chunky house at the start of the decade and has since been entertaining crowds across the globe playing his own exclusive material, bootlegs and mashups. In the studio he takes influences from funk, drum and bass, house, indie and just about every style to create a unique sound. Singles and remixes have gained support from the likes of Hybrid, Paul Oakenfold, The Crystal Method and DJ Icey featuring regularly on Beatports top 10.
https://soundcloud.com/betasounds
http://www.facebook.com/Betasounds
J-Slyde
https://soundcloud.com/jslyde
http://www.facebook.com/jslyde
Malphemist (our substitute teacher for giving away our man Youthful Implants)
https://soundcloud.com/malphemist
http://www.facebook.com/malphemist
MissMax
https://soundcloud.com/missmax
http://www.facebook.com/therealmissmax
Will Furphy
https://soundcloud.com/wfurphy
http://www.facebook.com/WillFurphy
Rysty
http://www.breakskool.com/
http://www.facebook.com/breakskool
Visuals inside by Seven Milligram
http://www.facebook.com/ThinkArtDesignVideo
– SAMSARA STAGE –
PakMan – 24/7 Records
http://www.facebook.com/PakMan.Aus
http://www.soundcloud.com/pakman_aus
Youthful Implants (we're stealing him from Breakskool for the night!!)
http://www.facebook.com/youthfulimplants
https://soundcloud.com/youthfulimplants
Acidtail
http://www.facebook.com/acidtailmusic?fref=ts
http://www.soundcloud.com/acid-tail
Frax Ex
http://www.facebook.com/pages/Frax-Ex/177718992279596?ref=ts&fref=ts
https://soundcloud.com/frax-ex
DJ Skrl
http://www.facebook.com/pages/DJ-Skrl/101333829954815?fref=ts
http://www.soundcloud.com/dj-skrl
Sack the Dj
http://digitalmusicfront.net/sack-the-dj/
Da Phat Nerd
http://www.facebook.com/pages/Da-Phat-Nerd/215972305089285?fref=ts
https://soundcloud.com/da-phat-nerd
http://www.facebook.com/samsara.doof
http://www.soundcloud.com/samsara-doof
http://www.samsaradoof.com.au/