Budgie Collective Launch Party – April 7th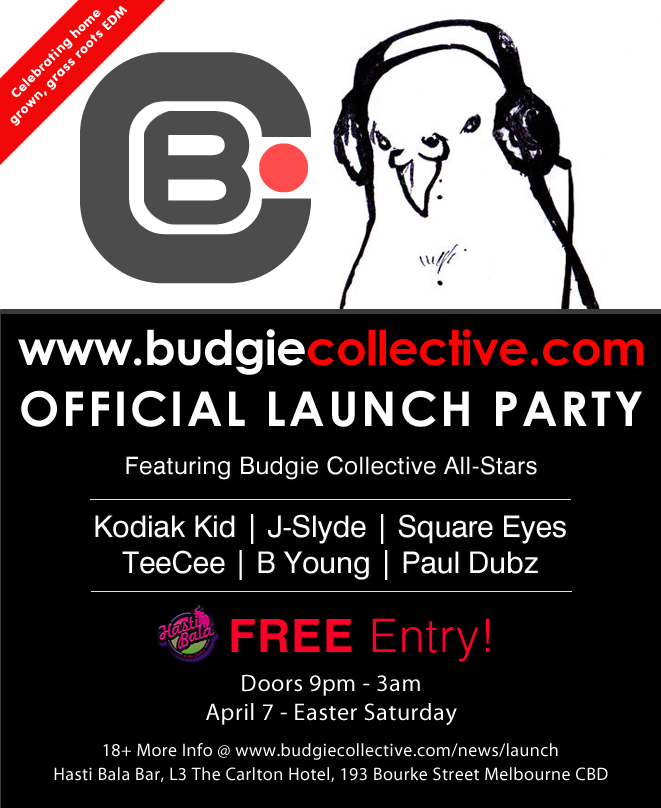 As a thank you to all our local listeners and DJ's, Budgie Collective internet radio is finally having its coveted official Melbourne launch.
The bass will drop at 9pm sharp, featuring sets from our very own all-star cast, spanning funky techno, tech and deep house, glitch and mid tempo…
– TeeCee
– Kodiak Kid
– J-Slyde
– Square Eyes
– B Young
– Paul Dubz
You can listen to top sets from these guys and many of our other syndicate members and live shows at www.budgiecollective.com
It's Free! So make sure you get in early… the venue is up close and personal so will pack out.
More info
Who: 18+
When: Easter Sat, April 7th @ 9pm
Where: The plush & wacky Hasti Bala Bar, at The Carlton. L3, 193 Bourke Street Melbourne.
Links
web: www.budgiecollective.com
facebook: www.facebook.com/budgiecollective
facebook event: www.facebook.com/events/200861283351307/
twitter: www.twitter.com/budgiecollective
Small Print
Venue management reserves the right to refuse entry | Respectable dress code | You break the full sized elephant head, you buy the full sized elephant head.