CUP EVE at LOOP BAR ft SOLID LIGHT, J-Slyde, Jun Wan, Bronson
BAD PARTY RECORDS AND LOOP PRESENT…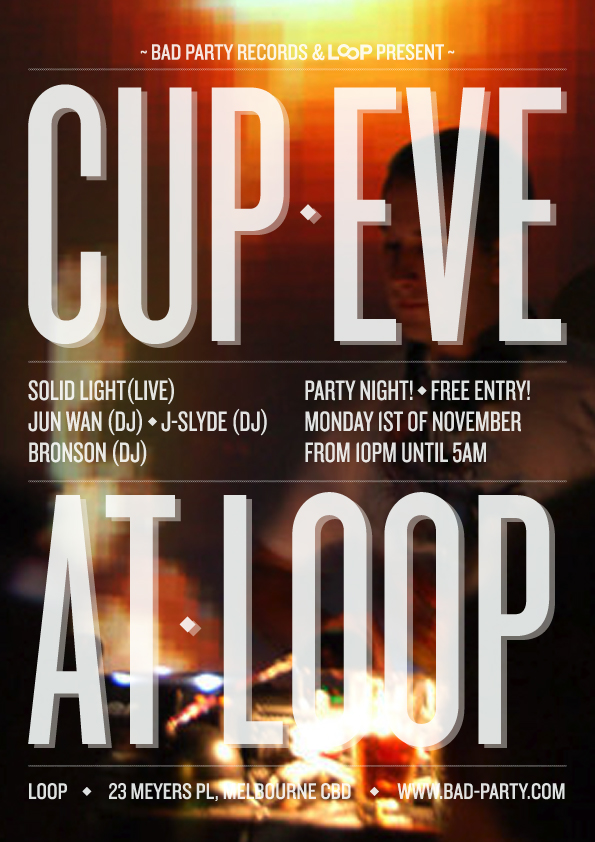 Partying hard on a Monday night is madness. That's why, on Monday the 1st of November we've decided to throw a massive gig at LOOP!
…It's seriously time for you to let your award winning hair-do and go bananas! Knowing that you don't have to work the next day makes this Bad-Party Records night even more glorious…
SOLID LIGHT
After releasing the second EP, Head To The Light, local beat-smith and experimentalist in the field of music SOLID LIGHT will be showcasing his brand new live set. Incorporating the best parts of the new EP, heavy bass riffs and wacky vocals, the live sound is something hypnotic that will get you trying out your brand new interpretive dance moves in public.
JUN WAN
Flying in from the sunny surf coast of New South Wales is the human-party-adonis JUN WAN. After spearheading massive parties for the past year in Newcastle with friends and international acts such as One Man Party, Douster & Sinden, JUN WAN is a safe bet to get the party pumping.
BRONSON
The BRONSON is able to increase your energy and libido in the same way that chewing the adrenalin gland of cheetah does. Super-rhythmic disco and jungle-haus selections from the back of the box are on the menu when this man is behind the spinning round things we all call 'decks'. He also calls them 'decks' and he does rip on them.
J-SLYDE
Experimenting with music like it's some kind of magic potion, J-SLYDE always puts on a good show. He's been playing good gigs all year and he never gets tired. Odds are, he will be wide awake at the LOOP gig and playing like he's just won the lotto. This is great news for punters.
www.bad-party.com