Darkbeat's St Kilda Fest Rooftop Party – Feb 10th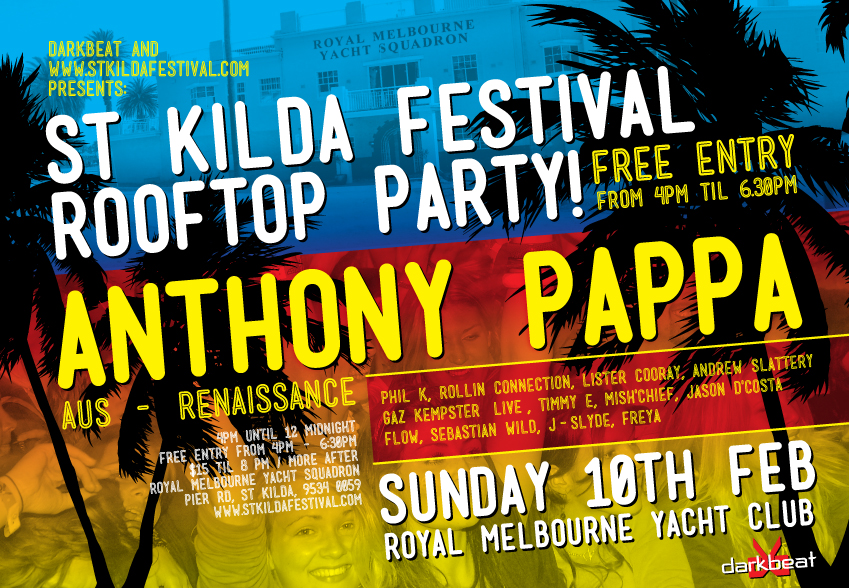 DARKBEAT www.stkildafestival.com Presents:
ST KILDA FESTIVAL – ROOFTOP PARTY! (FREE ENTRY from 4pm until 6:30pm)
Featuring: ANTHONY PAPPA (AUS) [Renaissance]
SUNDAY 10th FEB @ Royal Melbourne Yacht Club, St Kilda.
Over the last 30 years the St.Kilda festival has established itself as one of the world's premier street festivals and has gone on to become a firm favourite on the social calendar for backpackers, travellers, interstate visitors and locals alike. Starting off as a one day festival, it has evolved into a 9 day extravaganza of interactive activities, cultural events and fine foods that culminates on the Sunday with its huge emphasis on music events and entertainment attracting 300,000 – 400,000+ people each year.
For the 2013 festival Darkbeat is extremely excited to announce that we will team up with www.stkildafestival.com to host our very own Special Event at this iconic festival, and we've managed to secure one of the best locations to be at during the festival: The Royal Melbourne Yacht Club, St Kilda. With its awesome rooftop with its breath taking views that overlook the beach with its beautiful sunset on one side, and the hugely awesome street festival on the other, we can guarantee you that The Yacht Club will be THE place to be at during the ST Kilda Festival Sunday shenanigans.
Oh, we should probably mention that we have secured none other than local and international superstar ANTHONY PAPPA to be our special guest for this event! Anthony will be performing this exclusive and very special set for us alongside a host of local heroes (plus some other very special guests to be announced soon) to ensure that St. Kilda Festival 2013 will go down as the most memorable one yet.
There really is no reason anymore for you not to attend this year's festival. Having an international superstar of ANTHONY PAPPA's profile playing a FREE event right next to the beach is an opportunity that doesn't come along everyday! You can rest assured that The Yacht Club will be rocking with some hi grade tunes and the beer will be flowing wild on what is set to be the hottest FREE ticket at this year's festival.
SUPPORT
Phil K, Rollin Connection, Gaz Kempstar [Live], Timmy E, Lister Cooray, Andrew Slattery, FloW, Freya, J-Slyde, Jason D'Costa, Mish'Chief, Sebastian Wild.
WHEN
4pm til 12am (midnight)
ANTHONY PAPPA – On Stage 8pm sharp.
PRICE
FREE ENTRY from 4pm until 6:30pm – for darkbeat crew – then $15 from 6:30pm til 8pm – $25 there after.
WHERE
Royal Melbourne Yacht Squadron Pier Rd, St Kilda, (03) 9534 0059