Doesn't Matter ft RODSKEEZ – July 12th @ New Guernica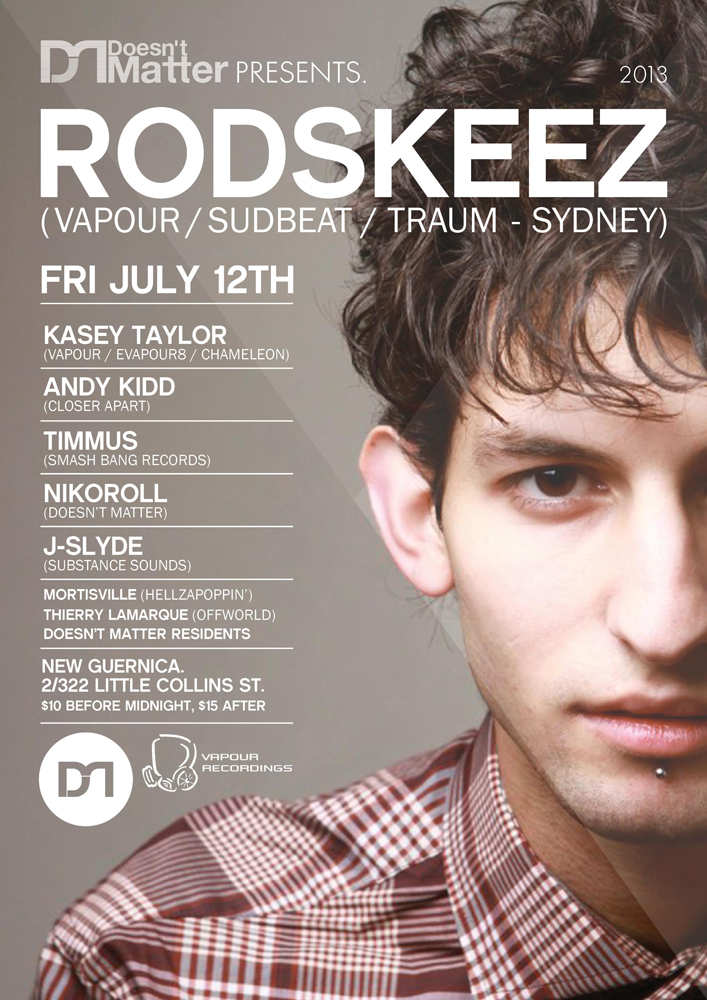 DOESN'T MATTER returns to New Guernica on July 12th and we're absolutely pumped to announce that we're bringing down Sydney-based tech and prog-house prodigy RODSKEEZ!
At just 22, Rodean Roozbehani is one of the most exciting artists to come out of Australia in the last few years with extensive releases on major international labels and worldwide acclaim. Backing him up is Vapour Recordings label-boss and one of Australia's biggest exports Kasey Taylor and a host of Melbourne talent! See below for full bios.
$10 entry until midnight, $15 after.
FULL-LINEUP
– Rodskeez (Vapour / Sudbeat / Traum – Sydney)
– Kasey Taylor (Vapour / eVapour8 / Chameleon)
– Andy Kidd (Closer Apart)
– Timmus (Smash Bang Records)
– NikoRoll (Doesn't Matter)
– J-Slyde (Substance Sounds)
– Mortisville (Hellzapoppin')
– Thierry Lamarque (Offworld)
– Thomas Touché (New Guernica / Doesn't Matter)
– Emerson (Doesn't Matter)
– Moskalin (Doesn't Matter)
– Brynley Cullen (Doesn't Matter)
– With a J (Doesn't Matter)