Freefall ft Ummet Ozcan – March 25th @ Room 680
Have been invited to play at the next Freefall event! Pretty amped as it's looking to be a HUGE night. I'll be playing a VS set with my man Alex DB. Most likely smashing out Electro, Breaks and harder edged Prog. Hope to see some of you there.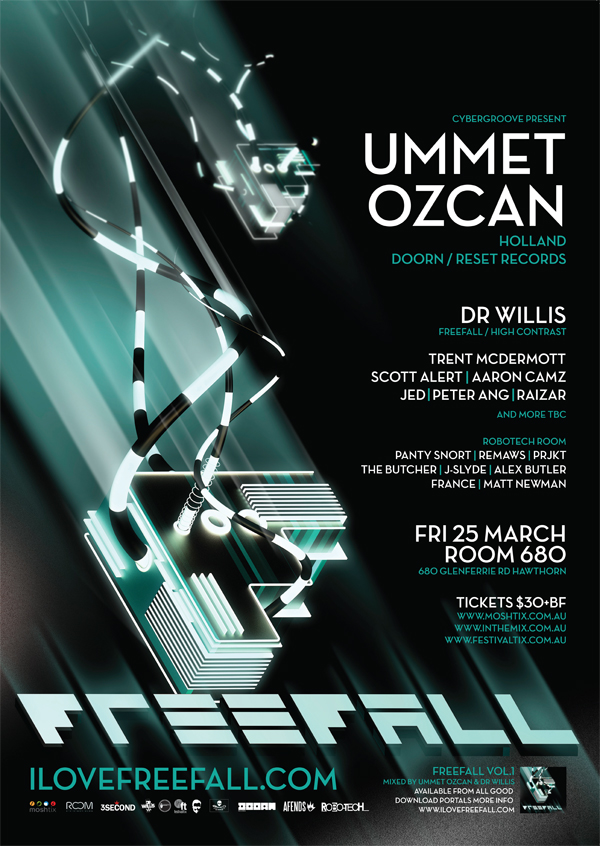 Friday March 25
Room680 – 680 Glenferrie Rd Hawthorn.
Tickets $30 + booking Fee from
room680.com moshtix.com.au festivaltix.com.au inthemix.com.au
Doors open 10pm
more info www.ilovefreefall.com
After much anticipation and even more rumours that's right Freefall strikes back.
Since our last series of events in Australia things have hit boiling point, sellout shows in Bali complimented by a record label that has taken control of everything in its path – be it top 10 DJ playlists, beatport and itunes dance charts or shattering speakers and dance floors around the world week in week out!  Some would say a modern day success story, but we say let's dance!
Freefall prides itself in delivering the hottest talent from around the globe consistently and it was impossible to ignore Ummet Ozcan's hype he has created since his last visit, nothing short of ticking every box possible as a producer and in this short amount of time accomplishing what many others will not do in a entire career length. He has done it all – and continues to, music genius or freak of nature ? You decide!  When a man of this talent has combined DJ skills to match it's a lethal weapon that will take one mighty blow to knock over!  You ask – we listen, wham bam thank you mam its Ummet Ozcan back by dope demand!
Local Lineup Main Room
Dr Willis / Trent McDermott / Scott Alert / Aaron Camz / Jed / Petar Ang
Robo-tech Room
Panty Snort / ReMaws / Prjkt / The Butcher / J-Slyde / Alex Butler / France / Matt Newman / Raisar
UMMET OZCAN BIO
Dutch wonderkid  Ummet Ozcan  plays a wide variety of styles, but he tends towards dirty, driving, trancey and pounding sounds mixed in with a good dose of epic  synth melodies and glitched-out,  ball-busting basslines. It seems Ummet Ozcan was destined to love EDM. His earliest musical memories involved listening to all kinds of dance music it's no wonder so many electronic noises worked their way into his subconscious. He acquired a second hand synth and basic sequencer software and  in 1999 his producers career officially began.
After spending several years perfecting his skills in a home studio environment , Ummet released in 2001 the import only 'Pump this Party' after a collaboration with The Sunclub (Fiësta, Summerjam 2003). A single that despite its limited release, earned Ummet first credits in global dance music. Another profound interest in sound synthesis and mixing grows while he is making more productions In the 1990s, complex synthesizers no longer required specialist hardware and began to appear as software for the PC, often as hardware emulators with on-screen knobs and panels. Ummet successfully designed his own synthesizer and named it Genesis after the biblical episode about the creation of life. For this matter it's all about creation of sounds and synthesis. Using his own state of the art synth he also designs soundbanks for established music software houses like Rob Papen (Albino, Predator) and Access (Virus) Genesis has been prominently covered in the worldwide essential Computer Music Magazine. After this coverage big producer names started using his synth for their own production and Ummet's name as a gifted sound designer was settled.
Meanwhile he delivers a few classic dancefloor burners like 'Chica Good', 'The Light' and 'Natural Waves' which instantly were picked up by Dj's like Eddie Halliwell, Marco V and many more.
With the release of Ummet Ozcan's unofficial Trance Energy 2009 Anthem TimeWave Zero he became one of the few Dj/producers that was highly supported on Dutch national radio and gained hit success between the normal mainstream pop- and rock artists.
At this moment he is developing a new synthesizer along with new spectacular unheard of sounds, which will definitely pave the way for a fresh new musical breeze thru EDM.