Freestylers Boat Party – April 6th
Rock Like This and Darkbeat are proud to present…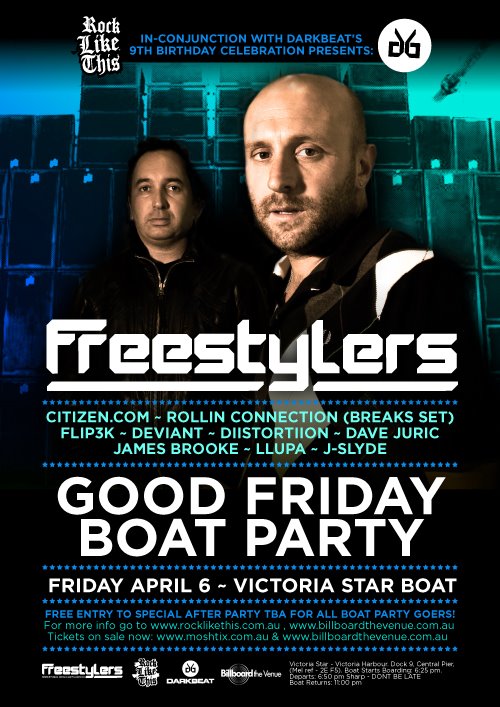 After more than 7 years of quality events, with most recent successes at Tribe NYD, and Plump DJs at Brown Alley, The Rock Like This crew continue to step things up in 2012, as they get ready for their FIRST boat party of 2012. And after the last sell out boat party with interstate guests and secret guest DJ, Sinden (UK), you know this one will be huge! Teaming up with Darkbeat to help celebrate their 9th Birthday celebration weekend, the two crews have prepared one of the best Good Friday Boat Parties to date. Coming down from their Australian Tour, Rock Like This and Darkbeat are proud to present: Freestylers (UK).
As always the voyage will be taken on the Victoria Star, taking you on a 4/5 hour cruise of Port Phillip Bay. Featuring a steller line up of Local DJs plus a Headline performance by the FREESTYLERS (UK). And as usual, all Boat Party patrons get a FREE ride and entry to the afterparty! Which will also have some very special International guests. So secure your entry to both parties with one ticket for what will be one hell of a Good Friday.
Supporting DJ's – Citizen.com, Rollin Connection (breaks set) Flip 3K, Deviant, Dave Juric, James Brooke, J-Slyde, llupa
Ticket Price – $50 industry tickets – email me
Victoria Star – Victoria Harbour. Dock 9, Central Pier, (Mel ref – 2E F5)
Boat Starts Boarding: 6:25 pm
Departs: 6:50 pm Sharp – DONT BE LATE
Boat Returns: 11:00 pm with FREE bus ride and free entry to the after party.
Latest DJ Mixes:
http://soundcloud.com/freestylers/freestylers-not-very
http://soundcloud.com/freestylers/freestylers-annie-nightingale
And a taste of their new production in 2012, with their 'Frozen EP' release:-
http://soundcloud.com/freestylers/sets/frozen-ep/
————–
FREESTYLER BIO:
Aston Harvey and Matt Cantor were both making different styles of music when they first met in London in the mid-90s. Uber-engineer Aston had been half of pioneering breakbeat hardcore act Blapps Posse, getting busy with cuts like 'Buss' It' and 'Don't Hold Back' before going on to work withDefinition Of Sound, Rebel MC and DJ Rap. Matt Cantor, meanwhile, was recording with Andy Gardner from the Plump DJs as Cut 'N' Paste andStrike for the fledgling Freskanova label.
Discovering a mutual love of hip-hop and electro, Matt and Aston started making tracks together. The first record they sampled was old skool electro classic 'Don't Stop The Rock' by Freestyle Express, and the resulting track'Drop The Boom' on Scratch City Records launched them as The Freestylers and the partnership has been non-stop ever since.
With a career spanning nearly two decades, The Freestylers have pushed musical boundaries, headlined sell-out shows, won endless awards, relentlessly toured festivals and clubs, had international chart success on several occasions, sold over half a million records, have been inspiration to hundreds of acts around the world and were the very first electronic act to play fully live on legendary BBC TV show Top Of The Pops. There is just no stopping the Stylers as more records, more shows and more groundbreaking production is all still to come from this revolutionary act.