Hernan Cattaneo – Sept 20th @ Prince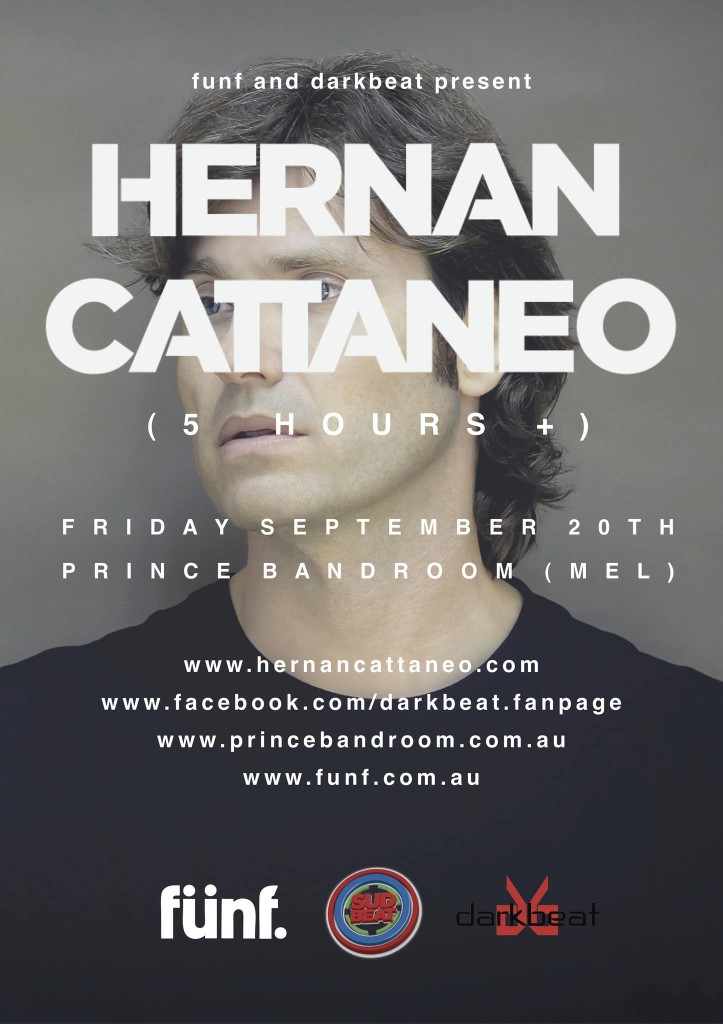 Funf & Darkbeat present:
An evening with Hernan Cattaneo (5 hour + Set)
Prince Bandroom, Melbourne – Friday Sept 20.
On Sunday June 9 – funf and Darkbeat threw 2 separate parties on the same night. Jeff Mills at The Bottom End (funf social) and John Digweed at The Prince Of Wales (Darkbeat 10th Birthday). Both attracted well over 2,500 people combined. The success and vibe of these two separate parties on two different sides of Melbourne triggered fond memories of the golden years of Melbourne's dance music scene from the early 2000's; where parties were done for the love, DJ's played longer than 3 hours, promote incompetence greed didn't hinder those trying to run a rave for the right reasons , and punters left with a smile on their dial from an amazing night.
Now, the two party entities join forces to bring you Melbourne favorite Hernan Cattaneo. As he's proven time and time again on the Australian club circuit, Hernan Cattaneo is a rare kind of DJ. Whether he's given two hours or eight hours to work with, the Argentinean veteran always finds music nobody else plays. This September, he's back.
Hernan will be playing his first ever set at The Prince Of Wales, which has proven to be one of Melbourne's premier night clubs in recent times, with attention to detail and a killer Outline Sound System – we will be ensuring all the meticulous details you demand are covered.
Hernan Cattaneo is confirmed for a minimum 5 hour set. Get ready, this event is set to go down in the history books.
Support From:
Rollin Connection, Darius Bassiray, Lister Cooray, Chris Meehan, Mish'chief, J-Slyde, Jason D'Costa, Luke Santilli, Andrew Slattery, Walter Juan , Marcus Holder, FloW + More TBC