HYBRID – Aug 10th @ New Guernica
Hands down one of my favourite electronic groups, Hybrid hold a very special place in my heart. Single-handedly responsible for sparking my love of progressive and breaks, their unique music has continually inspired and entertained. Needless to say, this will be a very special event for any and all lovers of electronic dance music. For those die-hard fans like myself, check out my brief write-up about their forthcoming Classics Box-set.
I'll have industry tickets available for those keen on heading down to the gig, but be warned, this will sell-out!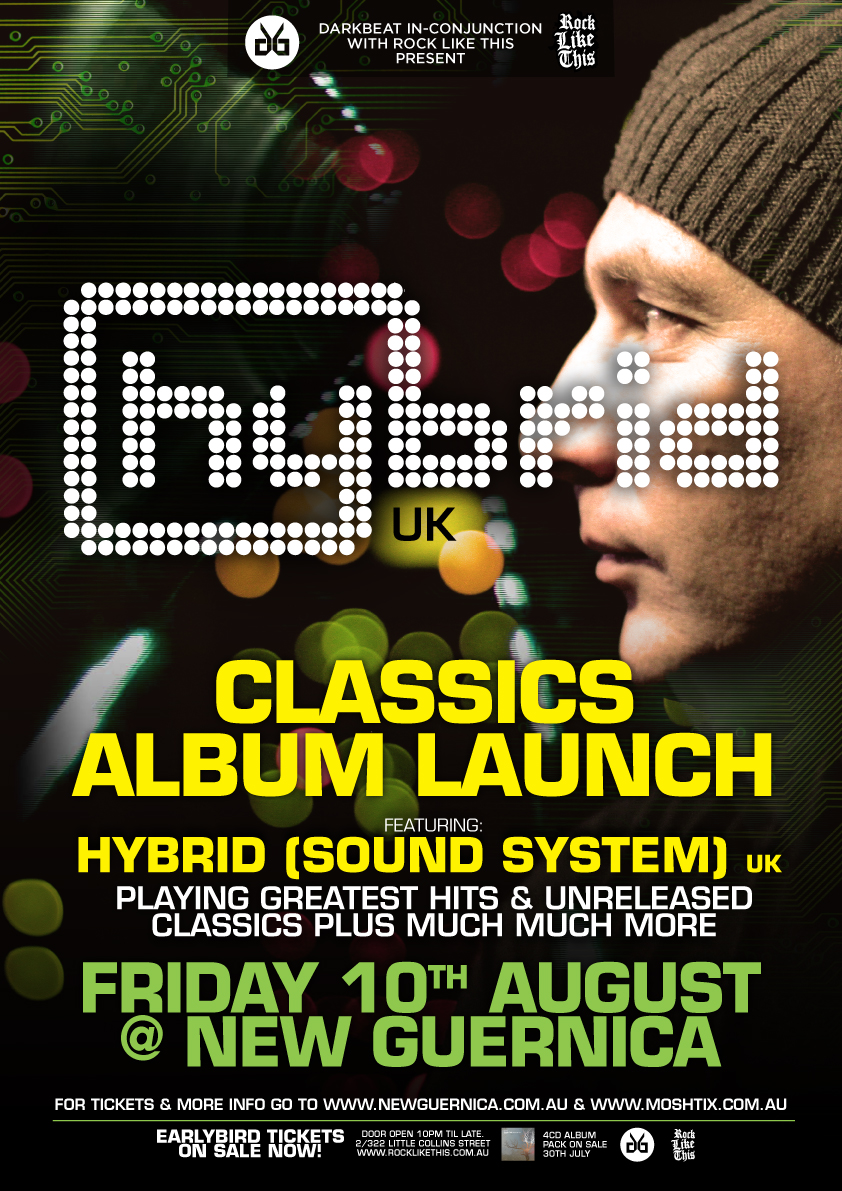 DARKBEAT in-conjunction with ROCK LIKE THIS Presents:
HYBRID (UK) – CLASSICS ALBUM LAUNCH PARTY
FRIDAY 10th AUG @ NEW GUERNICA
Darkbeat is back once again in-conjunction with Rock Like This on Aug 10th to proudly bring you one of our favourite acts from over the years 'HYBRID', for an exclusive extended set to celebrate the launch of their worldwide release of their forth coming Album (which is due out this July 30th). We are lucky enough to be one of their first stops on the tour this time around and are set for one hell of a night which will see Hybrid Sound System bring the noise from everything classic – old skool to nu skool.. We are set to be taken on a journey through time of the 'best of the best' that Hybrid have delivered us over the years – plus you can count on that there will be some extra (previously) unreleased tracks and remixes dropped, which will surely bring a smile to all that witness this epic celebration on the night.
HYBRID (UK) – [CLASSICS ALBUM]
Since bursting onto the scene in 1999 with the now classic album 'Wide Angle,' Hybrid has gained recognition as one of the most cutting edge and technically skilled acts in electronic dance music.
After four extremely well received albums and over twenty singles, plus countless remixes and a raft of movie & game soundtrack work, it is time to reflect on some of the bands numerous highpoints.
This exclusive new collection celebrates and relives these moments and includes cuts from their breakthrough album 'Wide Angle' the rare cover of Depeche Modes "Enjoy The Silence" (as chosen by an extensive ask- Hybrid-to-cover-this fan poll in 2011) and much, much more.
This compilation brings all of our favorite Hybrid elements together; the cinematic, the euphoric, and of course the classic.
A mini mix of the Classics album is available to listen to here:

WHEN
FRIDAY 10th AUG @ NEW GUERNICA
Time: 10pm til Late
TICKETS
For industry tickets please EMAIL
Available in store:
* All Moshtix Outlets.
* Profile Music – 128 Greville St, Prahran, PH: (03) 9510 1133
* Store Dj – 394 Victoria Street Richmond, PH: (03) 9912 2858
* And will also be available from behind the Bar @ New Guernica PH: (03) 9650 4494
WHERE
NEW GUERNICA – 2/322 Little Collins Street Melbourne