Hybrid, Solar Fields, Rack n Ruin and Tetrameth – Sept 23 @ Brown Alley
Shit just went up a notch! Tetrameth and Solar Fields have been added to the line up! Drop me a line if there's any after some industry tickets! jslyde[at]substancesounds[dot]net – no doubt they'll be selling fast!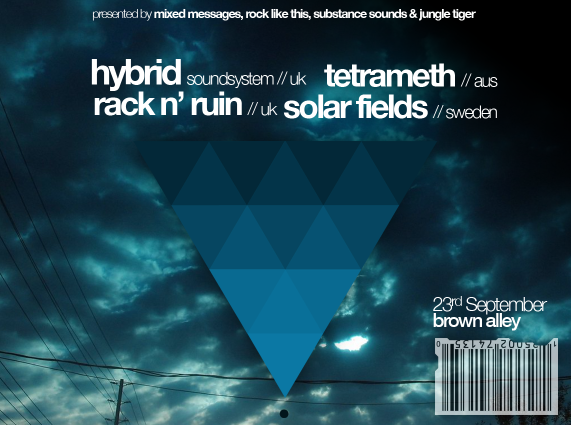 Original flyer….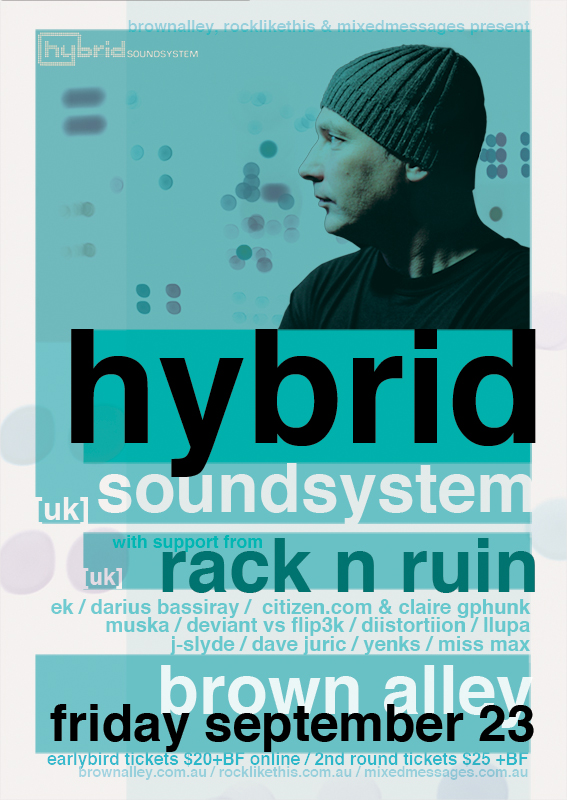 Hybrid Sound System (UK)
Since first bursting onto the scene with the now classic album Wide Angle in 1999, the Swansea, Wales-based Hybrid have been known as one of the most forward thinking and technically skilled acts in electronic dance music. Blurring the line between in-studio production and live presentation, Hybrid are one of the few remaining dance acts to perform live with a classic band setup.
Though, much has changed on the road to Hybrid's fourth artist album Disappear Here. Most notable is the addition of Hybrid's third member – singer/ songwriter Charlotte James – to go along with founders Chris Healings and Mike Truman.
Charlotte's impact is marked as Disappear Here is truly an album of real songs and not merely dance beats with vocals on top. It offers a lot more than anything Hybrid has ever previously written and pushes boundaries in every way.
With Disappear Here, Hybrid have managed to create an epic and unique sound which has progressed dramatically from its original dance inception but still retains much of what makes electronic music so exciting. The album features guest vocals from Tim Hutton, drums from Alex Madge and the City of Prague Philharmonic Orchestra.
Rack & Ruin (UK)
This young London producer has already harnessed the support of BBC's Annie Mac, Nick Grimshaw, Kissy Sell-Out, Toddla T, DJ Zinc, Fake Blood, Shy FX, Jack Beats, Boy 8-Bit, and many more with his latest releases.
Remix credits include Nas & Damien Marley, I Blame Coco, Aggro Santos, The Nextmen feat. Groove Armada & Ms. Dynamite, Zero 7, and The Freestylers. Future projects include collaborations with Island Records, Southern Fried Records, Fat! Records, MC Navigator, Slarta John (Basement Jaxx), new vocalist Jessie Ware, and many more established vocalists and artists.
LOCAL SUPPORT
EK / DARIUS BASSIRAY / CITIZEN.COM & CLAIRE GPHUNK / MUSKA / DEVIANT / FLIP3K / DIISTORTIION / LLUPA / J-SLYDE / DAVE JURIC / YENKS / MISS MAX / SIMON MURPHY / JULES PLEES
WHERE
Brown Alley – 585 Lonsdale Street
WHEN
23rd September
TICKETS
Email tickets@substancesounds.net for discount industry tickets!!
ONLINE TICKETS
$20 + BF http://www.moshtix.com.au/event.aspx?id=49235