INSTINCT – Sept 7th @ Level 2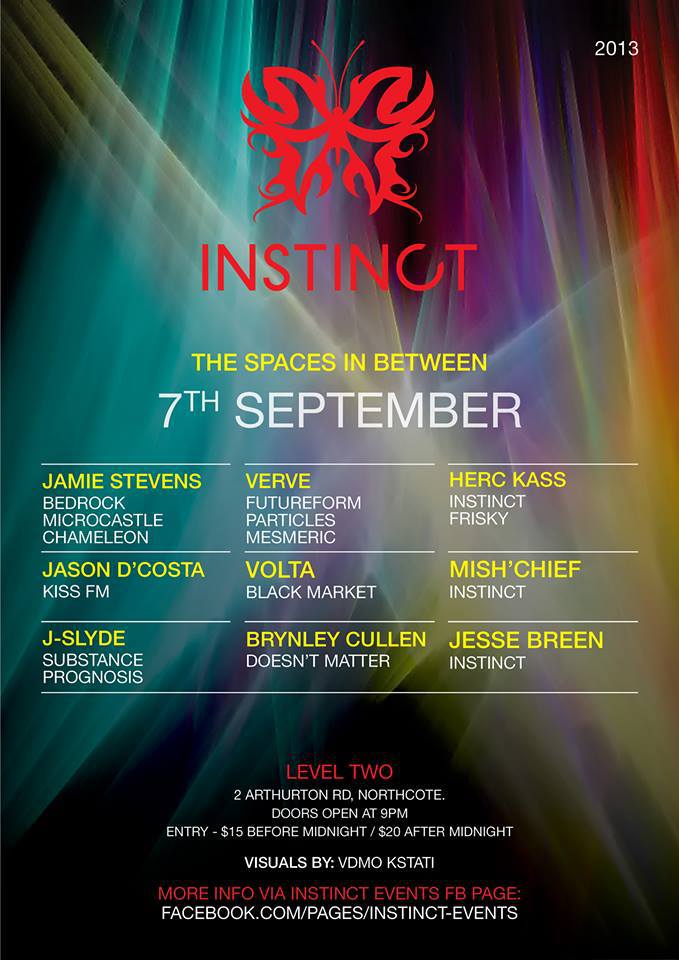 Instinct is back for another night of great music, great people and an energy that can only be felt to be described.
This time, we're jumping on board Level 2, transforming it into INSTINCT territory; with all the visual and audio delights you've come to expect. Across 2 rooms, we've put together a quality line up with some of Oz's finest alongside hand picked upcoming talent, that deserve to be heard!
DJ's
=======================================
Mish'Chief (INSTINCT) BIRTHDAY SHENANIGANS!

=======================================
Herc Kass (INSTINCT/FutureForm/friskyRadio)

=======================================
Jamie Stevens (Bedrock/microCastle/Chameleon)
Jamie Stevens has achieved an amazing level of critical and commercial success over the course of his career. As one of Australia's most talented and sought after music producers, he has proven his skill in professional sound design, scores for film and electronic dance music.

=======================================
Verve (FutureForm/Particles/Mesmeric)
As journeys go, Verve's has been eclectic and progressive at the same time. Sifting through the hard dance spectrums and evolving into a 'thinking mans' producer, he's matured into the artist he is today. Never holding station, he has mobilised his productions to incorporate tracks for labels such as Particles, Lowbit, Mirabilis and Mesmeric Records. This has helped enforce Verve as being a staple diet for the likes of Above & Beyond, Hernan Cattaneo, Jaytech, and Kosmas Epsilon.

=======================================
J-Slyde (Substance/Prognosis)
If reward for hard labour gets thrown back at you, J would be ducking for cover from the incoming missiles of appreciation. Through running the nationally respected brand Substance Sounds, J has hosted acts such as Shiloh, Pig & Dan, Soulfire, Rich Curtis, Jamie Stevens, Luke Chable, Steve Ward and Danny Bonnici, along with collecting a barrage of monumental supports from the likes of Nick Warren, Hybrid, Henry Saiz, Hernan Cattaneo, Guy J, Max Cooper, Rennie Pilgrim and Lee Coombs to name but a few.

=======================================
Brynley Cullen (Doesn't Matter)
Melbourne born & bred, Brynley has been DJing under various monikers for almost 5 years. He co-runs and is a resident DJ at the Doesn't Matter series in Melbourne which seeks to provide a new home for house & techno purists.
With a passion for deep, soulful grooves but not afraid to wind things up, he has found his passion at the deeper end of house and techno spectrum – also dabbling in progressive sounds. He has supported internationals as varied as Antix/Fiord and Loopus In Fabula to The Kleptones.

=======================================
Jason D'Costa (KissFM)
Over his twenty-three year career as a house DJ, Jason has become synonymous with Melbourne house music, being the name on everyone's lips when it comes to progressive house music in particular. He has worked very hard to achieve what he has in previous years. Being coined the prog-father by fellow DJ's and fans alike, he has been a well respected face among his peers for almost two and a half decades.

=======================================
Volta (Black Market)
Volta's sexy intelligent sound, playful charisma behind the decks and professionalism topped up with being an absolute music junkie and simply loving her dance floors, have brought her to do opening and closing sets for Stimming, Max Cooper, Ramirez and more

=======================================
We welcome a fairly new arrival to the Melbourne Scene and a fresh face to the INSTINCT team
Jesse Breen
has played clubs in old Hobart town for ten years and recently made the move to the big city.
Originally inspired by the sound coming out of labels like Zero Tolerence his style of deep prog and tech focuses on tight transitions and solid structure.

=======================================
VJ Grigori Vdmo Kstati
Visuals for this event provided by a well known man on the scene Grigori Vdmo Kstati. Check out some of his work on his page and lock yourselves in for what we know is going to be a wonderful addition to the night.
https://www.facebook.com/vdmokstati
=======================================
Where
Level Two Danceclub
2 Arthurton Rd, Northcote, Victoria, Australia 3070
When
Saturday, 7th September
Entry
$15 / $20 after midnight
Doors open 9pm