Instinct: Vibrations – 22nd Feb @ Rubix Warehouse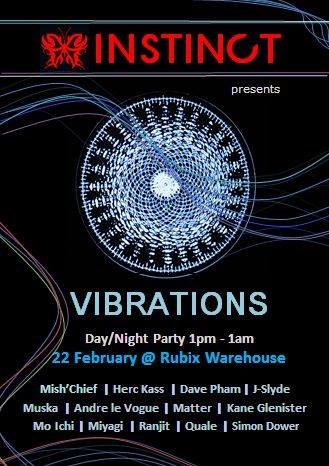 Follow your INSTINCT and join a community of people who know that music is the universal language and love …really is the answer.
ALL LIFE VIBRATES. Every living thing is moved by vibration. All matter and form, all creatures, and colours have their own sonic signature. Sound is a vibration and so is thought. Your vibrational frequency is a direct reflection of your inner self, your connection with yourself, the Earth and your surroundings. Vibration creates the world around you, and defines what you attract, and what you repel.
When we are happy, we vibrate at a higher frequency. When we laugh, when we're with someone we love, when we witness something beautiful, when we are touched by music, and when we dance, we connect with our essence, raise our spirits and create moments of magic.
INSTINCT invites you to let go of your worries, live in the moment, release your inner child and dance!
Raise your vibrations with our talented local line up:
The Crystal Cave
1.00m – 2.30 Mish'Chief v Muska
2.30 – 4.00 J-Slyde
4.00 – 5.30 Kane Glenister
5.30 – 7.00 Matter
7.00- 8.30 Andre Le Vogue
8.30- 10.00 Herc Kass
10.00 – 11.30 Mish'Chief
11.30 – 1.00am Dave Pham
Butterfly Room
6.00-7.00 Simon Dower
7.00-8.30 Miyagi
8.30-9.30 Muska
9.30 -11.00 Mo Ichi
11.00-1230 Ranjit v Quale
Visuals from the very talented vdmo Kstati.
See some of his work via https://www.facebook.com/vdmokstati
Rubix Warehouse has been chosen for the first INSTINCT gathering in 2014. For those not yet familiar with this north side gem it's an artistic hub in the industrial back streets of Brunswick – and we think you'll love it!
INSTINCT will be manifesting a creative play-space over three rooms, bringing our vibration theme to life through sound, décor, lighting and visuals.
Making the most of a long awaited summer, doors open early as we've decided it's time for a day party! Tunes drop 1pm and continue for 12 hours through to 1am. There will be plenty to help you get in the mood to dance, play and get silly, and plenty of comfy places to chill with old and new friends.
So come down early and enjoy the sunshine, a BBQ, some ping-pong, shooting hoops or just to claim your space on the dance-floor. As night falls our VJ's will transform the spaces with their talented take on our vibration theme, enhancing your soundscape with light, colour and motion.
DOORS OPEN 1pm Saturday afternoon
Rubix Warehouse 36 Phoenix Street, Brunswick.
ENTRY $15 before 7pm/$20 after
Treats, gifts, games and surprise & plenty of CD give-aways.