It's A London Thing – A UK Garage Reunion; Melbourne Edition – April 26th @ LOOP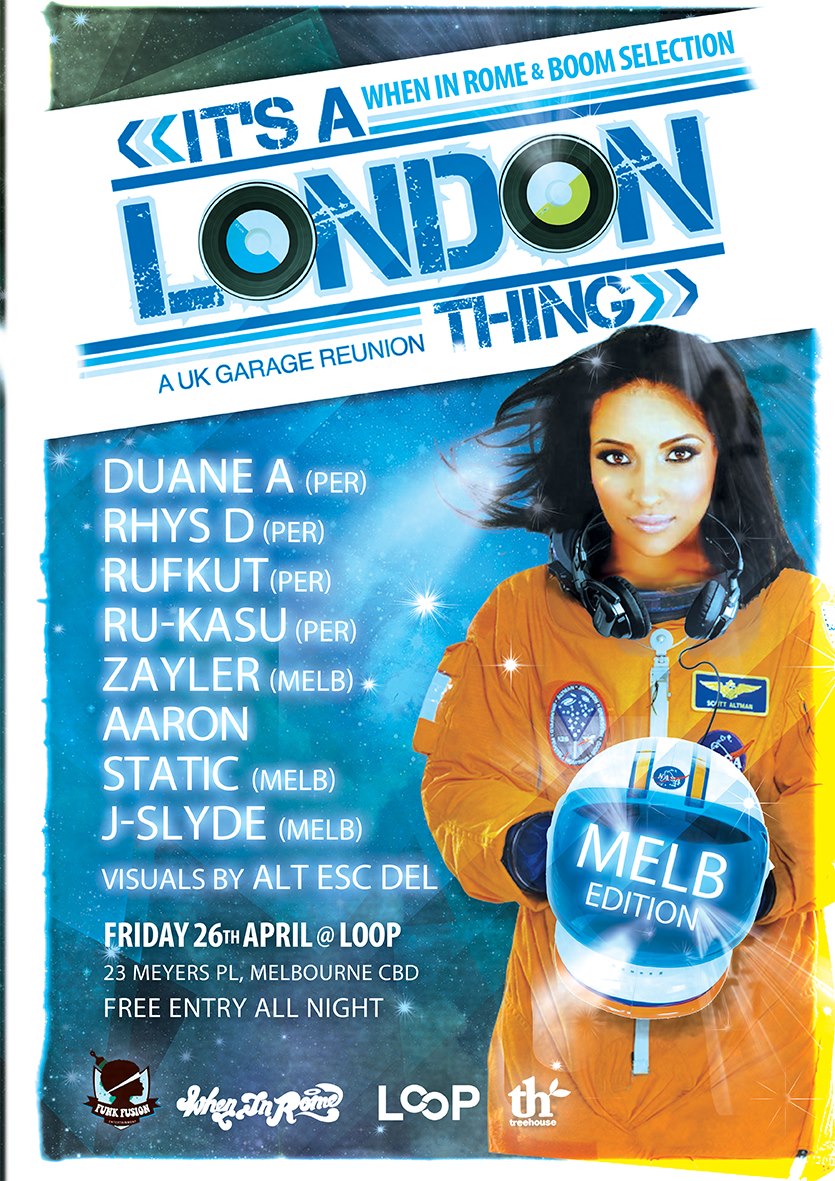 Returning for their end of the month regular bass-music friday the When In Rome boys have invited four of Perth's UK Garage legends to Melbourne for a bumpin' night of classic Speed Garage, UK Garage and 2-Step while some of Melbourne's best newcomers show you how the new-skool interprets the style with some Future Garage, Wonky, Bassline, 4×4, Post-Dubstep and whatever other subgenres the British have been coming up with lately.
Don't sit at home reading YouTube comments, come to Loop on 26th April and be shown the true roots of Dubstep by the people who first brought them to Perth in the late 90s while Skream was still in high school listening to Artful Dodger and Craig David (probably, not confirmed, citation needed).
Your rewind-technicians for the night are..
DUANE A vs RHYS D vs RUFKUT vs RU-KASU (Boom Selection/Perth):
Perth has always been a big sucker for bass music as many in Melbourne know, and in the late 90s and early 2000s as Jungle and Drum n Bass dominated the rave dancefloors, these 4 DJs along with Melbourne's latest adoption Aaron Static helped introduce the city to the latest craze from England; 2-Step. Speed Garage was already a hit in the clubs, but this new sound had the ability to get the attention of junglists and it was soon able to stand toe to toe with the raving massive.
ZAYLER (Daftwho?/Melbourne):
Melbourne's local hero of "what the hell is that anyway?" bass-music returns with full reign over the decks to show us how far we really have come in 13 years.
AARON STATIC (This Is For You/Melbourne):
Our Skip & Swing resident will start the night off with some of the more modern laid-back sounds of Future Garage and Chillstep including his own recent release on Bristol's Slime Recordings featured on YouTube music promotion channels "MrSuicideSheep" and Melbourne's own "This Is For You".
J-SLYDE (Substance/Melbourne):
One of the city's most diverse collectors of all things Electronic puts down his Prognosis hat and picks up his Skip & Swing hat to show these Perth boys how Melbourne saw the UK Garage explosion from over here while sipping our lattes on trams or whatever.