J-Slyde – White Noise Promo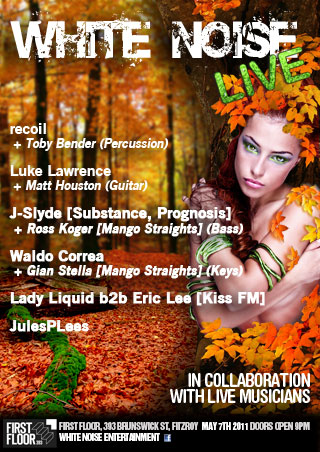 Put together a one hour promo mix for the upcoming White Noise event on May 6th at First Floor. It's a combination of all things breaks with both old and new tracks throughout. Due to the nature of the event and the fact that the White Noise krew are more known for their dark 4/4 genres, the idea was to cover as much Breakbeat related scope as possible whilst not going too underground. Starting out on a banger to grab some attention, the first half is funky and upbeat with some more commercial tracks thrown in – the last half covers the Progressive side of things.
If you like what you hear, ensure you make it down on the night! I'll be on the decks from 12 midnight along with live musicians Ross Koger (Bass) and Toby Bender (Percussion). Should make for one rather interesting set!
TRACK LIST:
01. Alex Metric & Steve Angello – Open Your Eyes (Original Mix)
02. Dirty & Acid – Rock The Disco (Original Mix)
03. Moguai – U Know Y (Original Mix)
04. Dave Spoon feat. Lisa Maffia – Bad Girl (At Night) (Beat Vandals Remix)
05. Plaza De Funk – Get Crazy (Original Mix)
06. Deekline & Wizard – Handz Up (Stanton Warrrios Remix)
07. Plump DJs Vs Elite Force – System Addict (Revamped by Elite Force)
08. Unkle – Reign (False Profit Remix)
09. Neo – Aura (Cosmonaut Remix)
10. Chable & Bonnic – Ride (Have A Break Remix)
11. Ilya Mosolov – I Believe You May Fly (Original Mix)
12. Trafik – Your Light (Luke Chable Vocal Breaks Remix)