Jaytech Multiverse Album Tour – Sept 14th
Easily one of Australia's biggest EDM exports, Jaytech has been at the forefront of the local Prog scene for quite some time. I've been a big fan since the first time I caught his genre pushing 'Identify Me' colab he did with Mark Dynamix way back in 2006. Since then, I've closely followed his progress from a somewhat unknown bedroom banger through to an international superstar. Sept 14th see's him touch down in Melbourne for his Multiverse Album Launch. If you haven't heard of him yet, I think it's about time you did!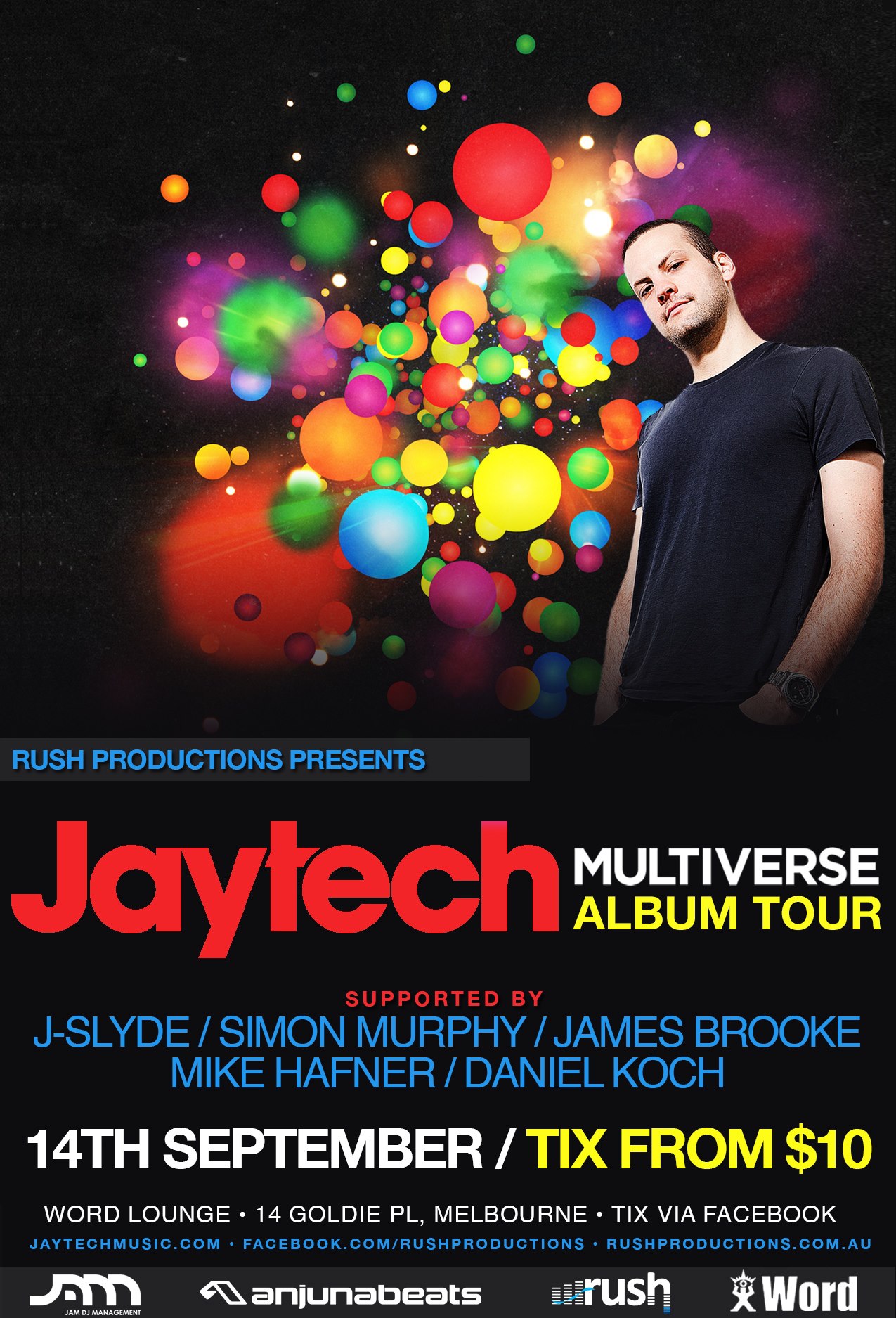 You've spoken, we've listened! The time has come for an intimate showcase of brilliant progressive music from one of Australia's well known and love EDM heroes.
★TICKETS ON SALE NOW★
https://www.facebook.com/rushproductions/app_251458316228
The folks over at Rush are humbly proud to be showcasing an incredibly talented close-to-home figure of the dance music scene… A local icon and an established international artist in his own right… a truly down-to-earth DJ who casts his own unique mark across the most popular dance music of today – Australia's own JAYTECH.
▬▬★ JAYTECH presents MULTIVERSE ★▬▬
Jaytech will be hopping back across the pond to his home turf this September and Rush have taken the opportunity to give him a platform to show his fans and friends through his latest artist album – MULTIVERSE – meaning YOU are invited to come and celebrate with him
In a world awash with carbon copy producers, James Cayzer is a bright exception. He's classically trained as a pianist, a perfectionist when it comes to production and programming, and his unique blends of deep melodies and sunny electronic grooves are equally at home in the DJ sets of Sasha or Desyn Masiello as they are in the stadium headlining appearances of trance legends Above & Beyond.
Cementing his position as one of the leading lights within deep and uplifting electronic music, Jaytech has long been chosen as the warm-up DJ of choice for the powerhouse Above & Beyond trio, and is now taking the step up as a headline DJ, showcased perfectly in the fantastic corners of his MULTIVERSE world.
Often uplifting but never obvious, Jaytech is a force on an unstoppable rise right now, and his journey is only just beginning. This will be an intimate, up close & personal show with STRICTLY limited tickets – only 200 available – and once they're gone, they're gone!
For mere pocket change a ticket will secure you a spot to come and help celebrate Jaytech's global achievements with an intimate crew of amazing people who love their dance music deep and lush.
Supported by a carefully hand-selected cross blend of prog-house, progressive and prog-trance local DJ's, this will be a fantastic night out celebrating great dance music!
♩♫♬♩♪♩♫♬♩♪♬♫♪♬♪♩
We're on in LESS THAN 4 WEEKS so share this fantastic news with your friends, prepare your smile and dancing shoes, and grab your tickets (minus any annoying booking fee's) via Rush's Facebook page today to avoid missing out!
◣ONLY 200 TIX AVAILABLE starting at a measly $10!
◣Tickets available via Facebook, rushproductions.com.au and Rush promoters
◣TIX ON SALE WEDS 22ND AUGUST
$10 Earlybirds – very limited (online only)
$15 General
$20 Final
…More on the door
//////////////////////////////////////////////////////////
JAYTECH [Anjunabeats]
Mike Hafner [Rush]
James Brooke [405 Recordings]
Daniel Koch [Majik]
J-Slyde [Prognosis]
Simon Murphy [Prognosis]
\\\\\\\\\\\\\\\\\\\\\\\\\\\\\\\\\\\\\\\\\\\\\\\\\\\\\\\\\\
► Drink specials on the night
► Giveaway copies of Jaytech's MULTIVERSE album on the night
► Luscious Word Lounge cocktail menu
► Tap and bottled beer available
► Spacious outdoor smoking area
► Custom-suited Multiverse décor on the night
FOR MORE INFORMATION:
www.facebook.com/rushproductions
www.rushproductions.com.au
www.jaytechmusic.com