Jerome Ismae-ae @ RMH – April 13th
Last minute addition to this one – so  I wasn't included in on any of the awesome promo that was spreading like wild fire. Rest assured, I will be playing! VS set with my boy Simon Murphy, 3-4am in the side room. See you there!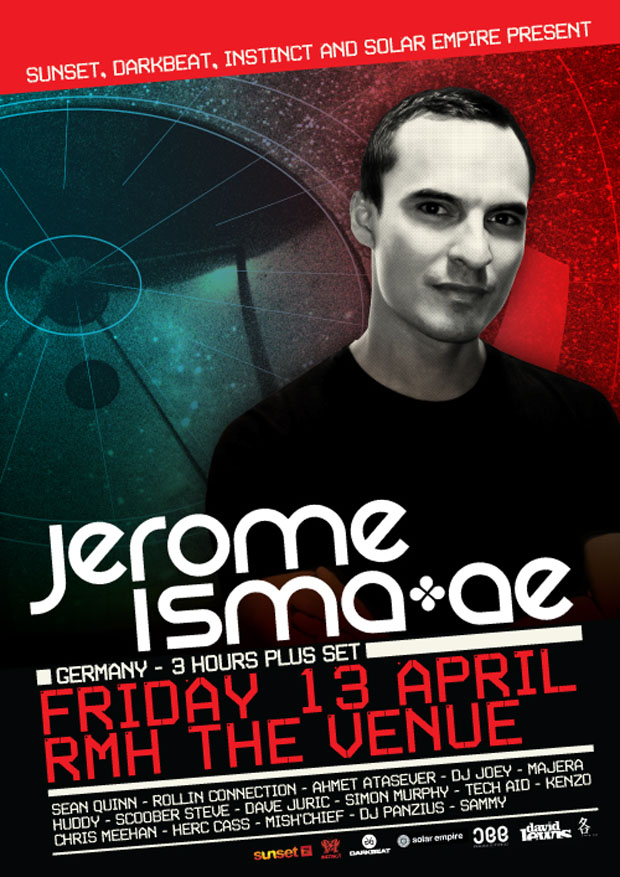 Sunset, Darkbeat, Solar Empire and Instinct are all renowned for their upfront, night to remember parties, have join forces to bring you one of the most diverse international artists there is, JEROME ISMA-AE
Hailing from Munich, Jerome Isma-Ae is one of the highest-selling, most successful Prog House/ Trance DJ/producers of the last 3 years. He is reinventing and designing the sounds since the early years of EDM. Building, combining, releasing and holding on to a continuously sharp sound, fit for both timelessness and the current demands of the dance floor society. With the characteristic Isma-Ae sound on his side, requested and praised by many, he's got the best weapon there is: the ability to stand out. Mind you, it's a weapon he won't hesitate to use.
On April 13 he returns to our shores once again, playing an exclusive three hour set. Held across two rooms of Techno, Progressive, Trance and Psychedelic sounds we bring you a night unparalleled at RMH the Venue.
SET TIMES
MASSIVE MAIN FLOOR
10:00-11:00 – Rollin Connection
11:00-12:00 – Mish'Chief
12:00-01:00 – Sean Quinn
01:00-04:00 – JEROME ISMA-AE (GER)
04:00-05:00 – Huddy vs Scoober Steve
05:00-CLOSE – Ken Zo
UNDERWORLD DUNGEON
11:00-12:00 – Majera
12:00-01:00 – Ahmet Atasever
01:00-02:00 – DJ Panzius
02:00-03:00 – Tech Aid
03:00-04:00 – Simon Murphy vs J-Slyde
04:00-CLOSE – Chris Meehan vs Herc Kass