Meanwhile Back At The Silent Disco – Zombie Apocalypse – July 13th
Following on from the somewhat left-of-center gigs I've been getting lately, this see's me heading down to play some Liquid DnB at a Silent Disco the Solar Empire krew are putting on. Yep, you read it right. A silent Disco. That's a no amplified music gig where all the punters are given a pair of headphones upon entry! There'll be 3 "stages" on from the get-go, with DJs offering up a selection of DnB, Electo, Prog and Psy. You'll have three frequencies to choose from on your headphones, each assigned to a different "stage". Extremely cool concept if you ask me! Read on for the finer details.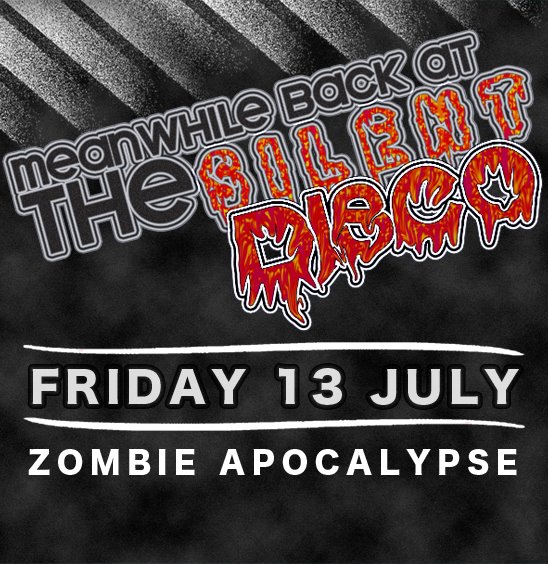 An underground first for your listening pleasure as we present to you a silent disco with a twist.
About time the zombies had their time in the limelight. Get ready for a theme party where even when you're dead you are welcome on the dance floor.
Featuring three channels on your headphones of the best djs with tunez to keep you twitching and stomping on and on and on.
FEATURING
BROKEN BEAT / ELECTRO
Nabbs
Buck Rogers
The Dirty Gypsy
Hands Down
Aaron Static
J-Slyde
TECHNO / TECH HOUSE
Stilow
Neocortex
Kid Kurupt
Killa
Lucca Tan
Loki
PSYTRANCE / PROGRESSIVE
Freaky Frequency
Harry Blotter
Mega Pixel
Schumann
Ill-Ucinogen
Emfasyze
Kynda
Special effects and make up will be available at RMH the Venue between 8pm – 10pm for those who want get deliriously gruesome for the night.
Doors 11 pm till the last zombie stands
Limited to 300 undeads
TICKETS
www.solar-empire.com.au/buy-tickets
Early Special – SOLD OUT
Second Round – $25 + bf
Final Release – $35 + bf
Door More
WHERE
Heritage @ RMH the Venue, 629 Bourke St – www.rmhthevenue.com
Solar Empire –
http://facebook.com/solarempire
When In Rome Events –
http://facebook.com/wheninromemelb