Moving Forward – 6th July @ Horse Bazaar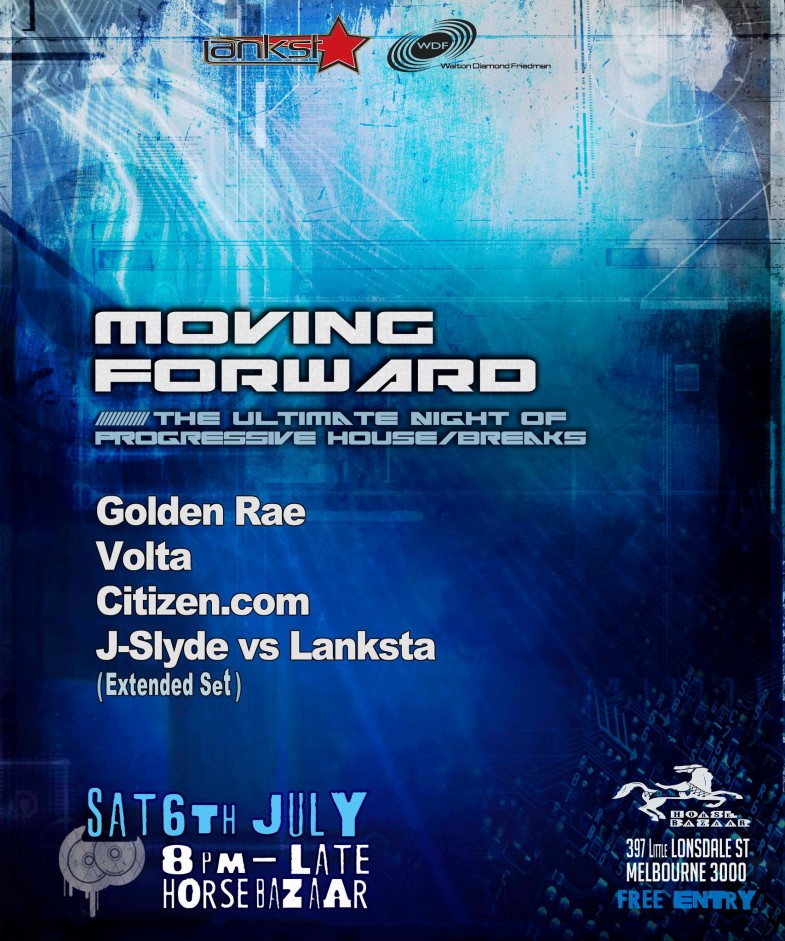 Can't wait to get back on the Moving Forward Dance Floor? Well neither can we! So we're not waiting to bring you the action on July 6 at Horse-Bazaar 397 Little Lonsdale St Melbourne!!
And It's still FREE ENTRY
Kickstart your Saturday with us at 8PM listening to the Progressive House tunage elegantly supplied by Volta & Golden Rae coupled with only the finest Japanese Dumplings & Food lovingly prepared by Master Chef Takako and the Drink Specials skillfully mixed by Fumi & Kieran from 8PM to 11PM so get in early and start your night right with us!
For those discerning lovers of quality music who rocked our first Moving Forward we are excited to welcome the return of Citizen.com and J-Slyde who along with Lanksta will keep the D~Floor pumping throughout the night with Progressive House & Progressive Breaks sure to get you moving, keep you moving and move you in ways you will never forget!
So get your food, drinks and Dancefloor wildness all under one roof as we fire up and proudly present another action packed night of mayhem & shenanigans sure to delight all of your senses
SUPERB FOOD & DRINK SPECIALS:
3 For $5 / 6 For $10 Dumplings
$5 – $10 Japanese Finger Food
$20 Bourbon & Beer & Chicken
$8 Champagne Cocktails
3 for $20 Shot Specials
$12 Carlton Jugs
$6 Sake
TUNE MASTERS:
Golden Rae
Volta
Citizen.com
J-Slyde
Lanksta
LOCATION:
Horse Bazaar – 397 Little Lonsdale St, Melbourne,