Nick Warren, Henry Saiz & Hot Since 82 – Dec 7th @ Billboards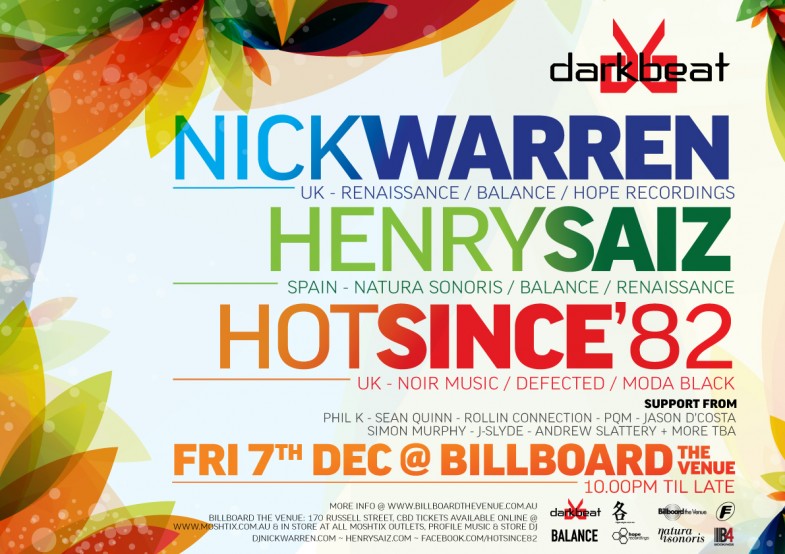 DARKBEAT PRESENTS: NICK WARREN (UK) [Renaissance / Balance / Hope Recordings]
HENRY SAIZ (SPAIN) [Natura Sonoris / Balance / Renaissance]&
HOT SINCE '82 (UK) [Noir Music / Defected / Moda Black]
FRIDAY 7th DECEMBER @ BILLBOARD (The Venue)
LAST CHANCE – FINAL ROUND TICKETS ONSALE NOW:
http://www.moshtix.com.au/event.aspx?id=61341&skin
2012 has been a HUGE year for Darkbeat as we've hosted some of our biggest parties yet. We really want to kick start your summer with a bang so for our first massive show of the summer season we are super excited to present you with our 2012 masterpiece.
After Nick's triumphant Balance launch last year at Billboard The Venue (one of Darkbeat's biggest parties of 2011) we just knew that he was the man to bring in the new summer for us. Nick is a genuine legend of the scene and we couldn't be happier to have him back again especially even more so now as he has just announced he is doing the next Renaissance Masters Series Compilation CD due out around Dec 2012/Jan 2013 time. We are also ecstatic that Henry Saiz is to return after his amazing closing set at Rainbow Serpent Festival this year in front of 7000+ punters and his huge 2011 Balance compilation saw him move to the top tier of DJ's in the world. Alongside Guy J, Henry Saiz truly is the brightest shining progressive talent in the world today. As if that's not enough we are also proud to announce the debut Australian tour of Englishman, Hot Since 82. We've been following him closely over the last year after he dropped his massive track 'Let It Ride' (one of the biggest deep house tracks from 2011) & Toky's – "About You" Hot Since '82's Remix (so far one of the hottest Deep House Tunes for 2012) which both have been supported by all the tastemakers and biggest DJ's. His blend of summery deep house to tech house has made him the perfect choice for this line up. To top this all off this will take place at Billboard The Venue which accommodates one of the best in sound & lighting set-ups in Melbourne, and we can ensure you that we will be utilising the Billboard facilities to its full potential for an audio visual experience second to none! We are more than excited for this one as this has the potential to be one of the, if not THE, parties of the year!
NICK WARREN (UK)
Nick Warren really is one of Australia's most beloved DJ's. One of the true pioneers of the progressive sound, Nick has been around since the advent of dance music alongside other UK compatriots like Paul Oakonfold, Sasha and Tall Paul. By the early '90s, he was one of the UK's top DJs, spinning everything from dub and hip-hop to house. When fellow Bristol artists Massive Attack left to tour America in the wake of their early success, they invited Warren to accompany them on tour as their official DJ, a testament to his turntable skills as well as his reputation at the time.
Around this same time, the mid- to late '90s, Warren was also garnering quite a bit of attention for his Way Out West collaboration with Jody Wisternoff, resulting in several popular singles for Deconstruction, most notably "The Gift," as well as a self-titled full-length featuring the group's hits. Nick played an integral part in defining the then-evolving trance sound of the late '90s when he joined the relatively unknown Global Underground brand; a relationship that proved to be career defining as he ended up mixing 8 of the legendary label's compilations. A regular for the Renaissance brand as well, Nick really has done it all. Last year's mix compilation for the hallowed Balance series has shown that Nick is still as relevant as what he was 20 years ago.
To start off the new year of 2013, Nick is looks to the future, and has just announced that he will be mixing the next Renaissance Cd, and has says. "I am really excited to announce that I'll be compiling the next album, set for a January 2013 release, which will be my 13th compilation. In 2001 Danny Howells and I released The Masters Series Part Four: Revelation and it's fantastic to be asked on their 20th Anniversary to mix the next installment. These are exciting times for electronic music with genres and styles more eclectic than ever before and with this album for the Masters series I hope to highlight some of the most breathtaking and diverse electronic music in 2012. Following a similar template to my Soudgarden Radio shows, the mix over two cd's will explore the ambient and leftfield side of electronic music as well as more dancefloor-oriented sounds, taking in producers from every corner of the planet and showcasing many unknown talents. The music I have found so far for the compilation is exceptional and I can't wait to get into the studio to mix it."
So we can be assured he will be in fine form come Dec 7th, & that we will most likely be given a test run / sneak peak of the new album throughout a smashing 3hr+ Set.
HENRY SAIZ (SPAIN)
Henry Saiz is the creator of a style that is a combination of his love for all things electronic with a deep passion for art. His music, as well as his work as a sound designer for film and TV has always been marked as forward thinking in approach and groundbreaking upon delivery. Henry's sound refuses to fall into a singular category, he takes in influence on many different levels and incorporates this into his live and DJ sets by forging a perfect balance of Electronica, Disco, House and Techno.
His rising reputation has earned Henry the honour of being asked to produce Balance Music's 019 compilation. Henry has now taken his DJ and Live shows around the globe, performing at venues in Europe, Asia, South America and Australia. He has also been a part of festivals such as Sónar and Creamfields amongst others and continues to be one of the most popular up-and-coming Spanish artists of his generation. Henry was last seen in Australia when he was chosen by the internationally respected Rainbow Serpent Festival to close their main stage this year. His constant growth has enabled him to spread his music to new audiences and is, without doubt, one of the bright new talents on the global electronic music scene.
HOT SINCE 82 (UK)
Hot Since 82 is a Leeds based dj/producer that has captured the hearts of underground clubber's with his debut release on the successful "Noir Music" imprint. "Let it ride" stormed to number 3 in the deep house chart on Beatport, and hit top ten in all major download sites like What People Play etc. He gained huge support with his debut release from Jamie Jones, Dj T, Joris Voorn, Siopis, Catz n Dogz, Audiofly just to name a few.
Not a stranger to the scene, "Hot Since 82" (A.K.A Daley Padley ) has been producing music and playing for over 10 years, headlining Pacha, Ministry of Sound & touring the world extensively. Recognized as an established producer and writer, Hot since 82 is on the verge of once again pleasing the sound of the underground with his ground breaking original productions and his extended live sets. Busy in the studio, Hot Since 82 has just completed a new remix and EP for Noir music and a remix for Berlin's Off Recordings. Even Radio 1's very own Jaymo & Andy George have been kicking down the door for the sound of "Hot Since 82". With an array of future releases and remixes, and his burning passion to produce quality house music, Hot Since 82 will be the talk on everyone's lips over the next 12 months.
—————————————————————
So we have one bona fide legend, one soon-to-be-legend and one extremely talented up and coming artist performing at one of Melbourne's top venues. What's not to like?! Every time Nick Warren and Henry Saiz have been in town it's been a sell out, put them together however and tix to this event will be hot property! We've really been waiting on an opportunity to get Hot Since 82 involved in a Darkbeat party and we cannot wait for everyone to see why he is so rated on the international scene. And you can rest assure that we will be putting the Billboards facilities through its paces with some truly spectacular visuals. The Billboard soundsystem will be finetuned with scientific precision for an audio experience that is worthy of the warm, lush sounds of our headliners. This truly is the progressive event of the year. Get your tix asap as this will be a sell out event!
Support from: Phil K, Sean Quinn, Rollin Connection, PQM, Jason D'Costa, Simon Murphy, J-Slyde, Andrew Slattery, Drew K + More TBA
FRIDAY 7th Dec @ Billboard (The Venue)
Time: 10pm til Late
LAST CHANCE – FINAL ROUND TICKETS ONSALE NOW: – Thru all moshtix outlets and online:
Ticket Link Here: http://www.moshtix.com.au/event.aspx?id=61341&skin
Tickets are also available in stores @:
* All Moshtix Outlets.
* All Ticketek Outlets.
* Profile Music – 128 Greville St, Prahran, PH: (03) 9510 1133
* Store Dj – 394 Victoria Street Richmond, PH: (03) 9912 2858
For more Info:
https://www.facebook.com/djnickwarren // https://www.facebook.com/HenrySaizOfficial
https://www.facebook.com/hotsince82 // http://www.moshtix.com.au/ // http://www.billboardthevenue.com.au/ //
http://www.inthemix.com.au/ //
@ Billboard (The Venue)
170 Russell St, Melbourne
Ph: (03) 9639 4000