Nick Warren & Jozif – April 4th @ New Guernica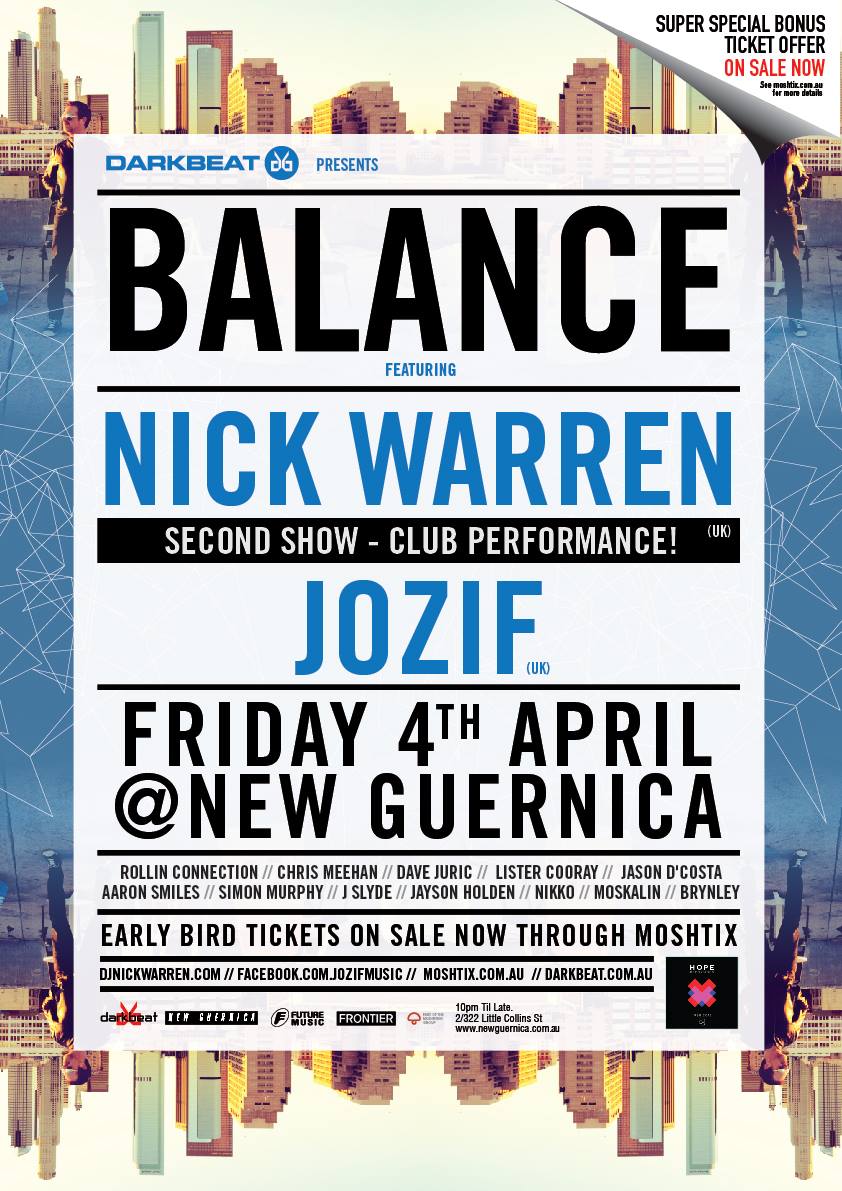 After tearing up the Melbourne bay how can we let Nick Warren leave town without one final performance? We all know the man is a legend so we just had to get him back for round 2. Yes, Nick will be playing a 2nd show at New Guernica for all of those that missed out on the boat, or even for those that were on the boat and would like a second musical serving of Nick Warren. As if that's not reason enough to attend we are very excited to announce that English deep house cat jozif will be joining us for the 2nd show!
One of the most exciting names to proliferate in the world of house music over the last five years or so, English DJ and producer jozif is a unique talent. His highly musical take on house and downtempo 4/4 grooves as a producer is somewhat belied by his prowess as a dancefloor-driven DJ, but it's exactly this combination that makes him such an exciting proposition. His Balance mix from last year showed a melancholy side to jozif that very few expected, and proved that there is more to jozif than meets the eye. Whether he's playing the big rooms of a We Love… Space residency, serving up wigged-out grooves alongside his Fist or Finger label partner Craig Richards or soundtracking a sun-drenched day party in Shoreditch, he always seems effortlessly comfortable – and accomplished.
Amazing or what?! Jozif into Nick Warren makes a lot of sense – throw in the party vibe being carried over from the boat and we are set for a seriously fun night! It's rare to see 2 artists of Nick Warren and jozif's caliber in the intimate surrounds of a venue like New Guernica. This looks set to be a very special night indeed.
SUPPORT FROM:
Rollin Connection, Chris Meehan, Dave Juric, Lister Cooray, Jason D' Costa, Simon Murphy, J-Slyde, Jayson Holden, Aaron Smiles, Brynley Cullen, Nikko, Moskalin.
TIME:
10:00pm – LATE
TICKETS ON SALE NOW!
First Round Tickets Completely SOLD OUT!
FINAL ROUND TICKETS On Sale NOW