Nick Warren & Luke Fair @ Billboard – Sept 9th
Yet another dream come true, have just been booked to support one of my all time favorite producers, Nick Warren! A big fan and admirer of his work since I first heard an early Way Out West album, I've been a dedicated follower of his music ever since. If I could pin-point my love for all things Prog, it would easily tie in with this man. Needless to say, im amped to be apart of this event!
For those keen on coming, I have a small amount of industry tickets on me. Let me know if you'd like some!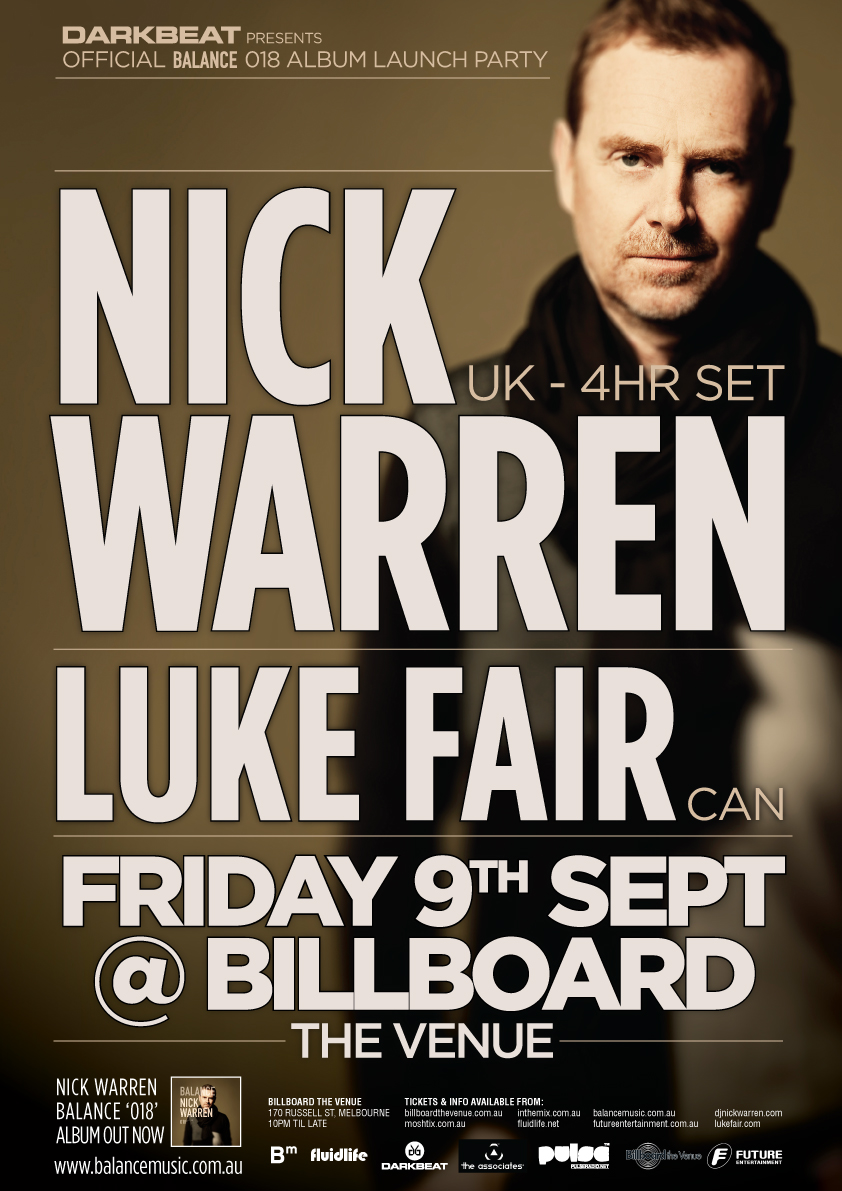 DARKBEAT presents:
BALANCE '018' ALBUM LAUNCH PARTY
NICK WARREN (UK) [4 Hour Set] & LUKE FAIR (CAN)
FRIDAY 9th SEPTEMBER @ BILLBOARD THE VENUE
After a short winter hiatus, Darkbeat is back. Revitilised and dedicated to bringing you the best that dance music has to offer.
Darkbeat has kept its proverbial finger firmly in the pies of many of Melbourne's most successful parties of late. Starting back in April with Darkbeat's 8th Bday with Desyn Masiello (who was as good as he's ever performed in this town!) Satoshi, Tommie and Ryan Crossen; Joris Voorn tore the roof off Roxanne Parlour in May and June saw one of Melbourne's favourite son's, Guy J, do what Guy J does best. Destroy dance floors.
This party saw the collaboration between two of Melbourne's premier brands, Darkbeat and Balance. Following on from this is one of the most anticipated events of the year, main man of the moment, the one and only Henry Saiz (Spain) in July for another 3 hours of bliss!
Darkbeat in conjunction with Balance have set things up perfectly to host none other then one of Melbourne's favorites – NICK WARREN (UK) for an exclusive 4 hour set and alongside one of Canada's best LUKE FAIR.
This all takes place in a new venue for us – at Billboard The Venue which accommodates the best in sound & lighting that will be utilised to it's full potential to ensure an audio visual experience second to none!
+ Support from:
Sean Quinn, Rollin Connection, Alam, Lister Cooray, Dave Juric, Walter Juan, Damir & Miza, J-Slyde, Simon Murphy + Live VJ & more TBA!
Friday Sept 9 @ Billboard The Venue
Doors: 10pm – Late
Tickets: Available from: www.billboardthevenue.com.au & www.moshtix.com.au and
In store at moshtix outlets.