Nov 10′ – Chart and Beatport Musings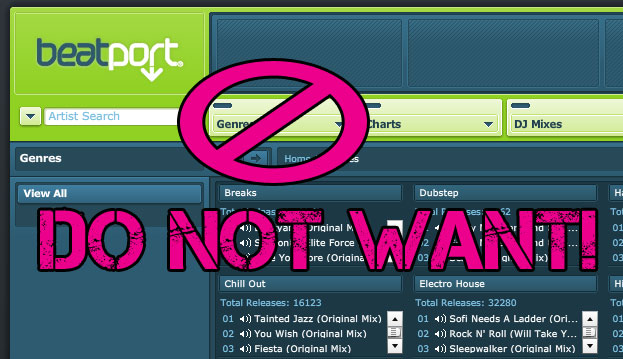 Thought Id share some tracks that iv been digging over the last month. Been branching out with a lot of the music I've been playing with Tech-house and techno high on the menu (as you may have noticed in my last demo).
I must say that I've become really disheartened with the genre's and charts on Beatport as of late and have realized that to find good music nowadays, you really have to branch out and listen to "genres" you wouldn't normally listen to. Im not sure how Beatport categorization works, but in my opinion it's a fucking joke, and has been for quite some time. I suppose a genre classification is dependent entirely on the individual, as what is one mans techno could be another mans prog – but in my ears a shitload of the stuff currently on Beatport is totally out of whack.
A loose example – I went to pick up a bag of tracks earlier in the week. I was re-listening to my bag and a track came up twice. Initially I thought that perhaps I had hit up a Radio Edit or something, as Beatport will usually warn you if you have added the same track twice. But upon further inspection I noticed that the tracks were identical, however they were listed on different labels, under different genres (techno / tech-house) and a $1 difference in price. Seriously, WTF is up with that?! It made me furious. I know it probably makes sense from a marketing point of perspective – saturation and coverage – but from a consumers point of view, it's annoying and fucking pointless. It's not the first time shit like this has happened tho. I encounter it almost every time I go trawling for beats. There's even been cases where a popular track has hit the top 10 in two different genre's! It really does illustrate that the categorization process on Beatport is extremely flawed. My advice is next time your looking for music on Beatport – hit up a genre you wouldn't normally hit. My money is that you'll be happily surprised with what you hear!
But I digress, I could go on all day about it. I started this post to share some music with you all! So below are my top 10 tracks for the month of November. Some old, some new – allllll good.
Ripperton – Farra (Deetron Edit)
Beautiful melodic techno. Subtle yet effective.
Funk D'Void – Shadowchaser (Original Mix)
Dark driving techno. Peak-time shit with a brooding bass-line.
Alxi Tyrel – Rebecca Loos (Gui Boratto Remix)
Phat remix from the master of Tech. Great vocal hook and a bass-line that begs for you to dance.

Quivver – 2 Notes N A Beat (Original Mix)
Deep prog/tech crossover tune. Rolling and dirty.
Alessandro Diga – Meltdown (Original Mix)
Melodic techno/progish track with a driving bass-line.

Umek & Bletek – Back In The Race (Original Mix)
Stomping Techno. Main room face melter. BIG sound!
The XX – Crystalised (Edu Imbernon Remix)
Fantastic laid-back housey remix. Summery vibe. Listed under "Indie Dance" on Beatport… WTF?
Hybrid – Disappear Here (Maor Levi Revealed Mix)
Vocal Prog Trance! A little cheesy, but a really well put-together remix.
The Field – Everday (Original Mix)
Loopy ass wiggilin' techno. Very upbeat with a subtle vocal hook that'll lift the dance floor like no-ones bizness!

Total Science ft Riya – Redlines (Break Remix)
Vocal DnB with Break on the remix duties. Solid release. Havent heard DnB this good for a long time!
All are available through Beatport. Might pay to check prices and shop around to see if they're avail on other labels. Could save yourself some $$ 😉


One Comment