OTP Presents: A Night of Breaks – 1st Nov @ My Aeon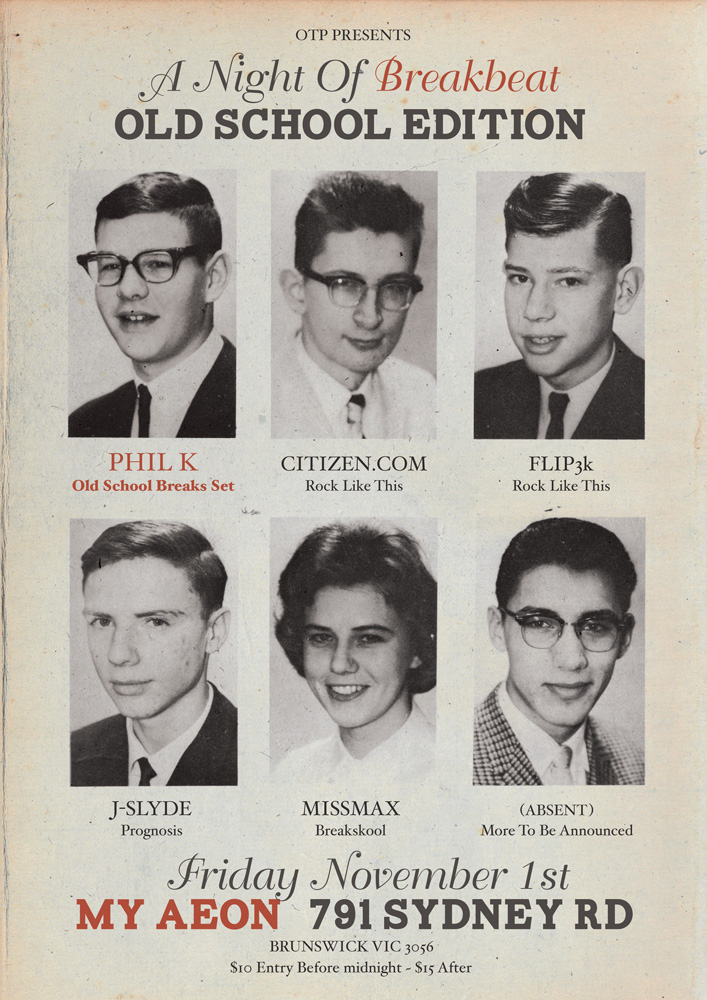 OTP is a new promotions outfit with a focus on quality music in the styles you may not get to hear every day, with an emphasis on unique one off events. Be it Breaks, Downtempo, Prog, Melodic Techno, or something inbetween, OTP is all about bringing together the DJ's, producers, and music lovers under one roof, in front of a quality sound system. It is no surprise then that OTP will be launching its first night in front of the aural delight of the funktion 1 sound system in My Aeon. Sound like your cup of tea? Read on…
****** Old School Breaks Edition *******
If you are like me and the breaks sounds of yesteryear still bring back fond memories (and black holes where memories should be), then this is the night for you. If breaks in the 90s were something you got after falling off your bike, this is your chance to find out why this style captured the hearts and ears of so many people- basically, 'cause its a @#$%load of fun 🙂
Either way, if you are keen for a good party, there is no better way to start your weekend than with a swag of Melbournes finest DJ's as we journey down memory lane. Each DJ has been selected for their passion and dedication over the years in keeping the breaks sound alive, and most importantly, their skills behind the decks. To top off the already stellar lineup, we have none other than the legendary Phil K, who is as excited as we are to be laying down a very special old school breaks set for us- this is not one you will want to miss.
****** Lineup ******
Phil K (old school breaks set)
Citizen.com (Rock Like This/The Brotherhood of Beats)
J-Slyde (Substance/Prognosis)
FLIP3k (Rock Like This)
Missmax (Breakskool)
@ My Aeon – 791 Sydney Rd, Brunswick
$10 before midnight, $15 after
So dust off your krafty kuts records, chuck on your dancing shoes, and come on down for a bevvie and a boogie at this old school breaks special for one night only.
Hope to see you there 🙂
OTP