Prognosis – Feb 11th @ LOOP
Substance Sounds in conjunction with Loop present: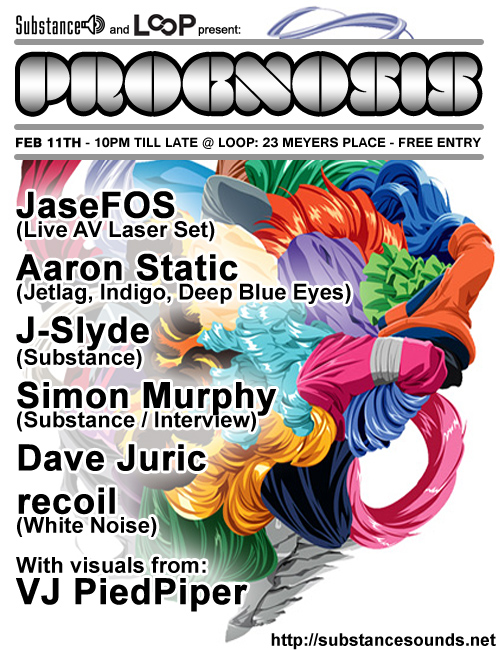 A night of mind bending Progressive and Electronic sounds!
Dedicated to the Progressive sounds of EDM, Prognosis is a new night that will play home to the finest DJs, Producers and Visual artists Melbourne has to offer. Offering up a smorgasbord of quality electronic sounds, Prognosis will not only concentrate on the Progressive realm of electronic music, but will also delve deep into a variety of other related genre's. The only thing that's guaranteed is quality, forward thinking electronic music from go to woe!
Helping headline our debut event is JaseFOS, who will be offering up a live AV laser set. Hooked up to computers, controllers and 2 massive lasers, Jase will be orchestrating an extremely unique performance that is set to not only aurally please your ears, but also visually tantalize your eyes.
Along with Jase, we'll also be welcoming Aaron Static to the decks for a Progressive set chock full of his own productions. Signed to Jetlag Digital, Indigo and Deep Blue Eyes (to name just a few) Aaron has been producing since the ripe age of 16. With the man pumping out quality release after quality release, it was only fitting that we invite him down to celebrate our opening night.
Joining those two are Melbourne heavyweight DJs: J-Slyde, Simon Murphy, Dave Juric and recoil. Along with the highly talented VJ PiedPiper on visuals for the duration of the event.
If you like your electronic music the only prognosis IS Prognosis!
// WHERE:
Loop. 23 Meyers Place, CBD
// WHEN:
Friday, Feb 11th.
10pm – late
// PRICE:
FREE!
// LINEUP:
JaseFOS (Live AV Laser Set)
Aaron Static (Jetlag, Indigo, Deep Blue Eyes)
J-Slyde (Substance)
Simon Murphy (Substance/Interview)
Dave Juric
recoil (White Noise)
With visuals from VJ PiedPiper