PROGNOSIS – June 16th @ LOOP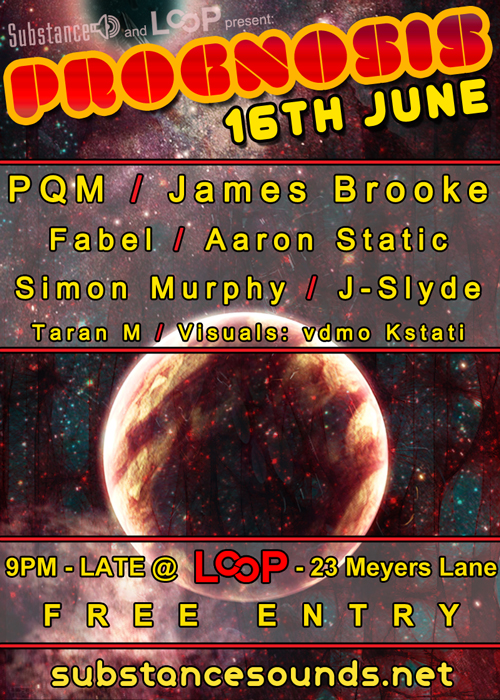 Oh, the weather outside is frightful
But Loop Bar's so delightful
Since Prognosis is the place to go
Let's smash it out listening to tasty tunes!
Ok, so if horrible rhyming was a crime, we'd be doing time buuuut whatcha gonna do?!
The mildly crazy crew down at Prognosis are back for their June soirée and have assembled another stellar lineup of musical maestros to perform for you. After obliterating Loop on his last Prognosis visit, the Prince himself, PQM, is back to treat us to a journey through his musical musings. Joining him, Elements Radio and 405 Recordings head honcho James Brooke makes his long overdue Prognosis debut with a whole stack of auditory weapons. Next up we have dusty dance-floor expert Fabel whose immense music knowledge shines through in every delicately crafted set. And back once again to kick off the ruckus is beat-master Taran M who'll be opening up proceedings from 9pm, with his unique blend of spaced out glitch.
Fresh off their global broadcast on Frisky Radio, Prognosis residents J-Slyde, Simon Murphy & Aaron Static will also be bringing their blend of beats to the table. The trio have been known to whip the crowd into a frenzy with their genre-bending explorations of all things melodic and progressive. And of course no Prognosis would be complete without the inspiring visual wizardry of vdmo Kstati and his transfixing artistic displays.
And because we can't possibly cram all these shenanigans into our usual time slot, we will be opening an HOUR EARLIER at 9PM – so get down early and stay till late. You're not going to want to miss a beat!
DJS:
– PQM (Abducted Recordings / Yoshitoshi)
– James Brooke (Elements / 405 Recordings)
– Fabel
– Aaron Static
– Simon Murphy
– J-Slyde
– Taran M
VISUALS:
vdmo Kstati
WHERE:
Loop – 23 Meyers Lane, Melbourne CBD
WHEN:
Saturday, 16th June. 9PM – LATE.
PRICE:
F R E E E N T R Y !
FURTHER INFO:
http://substancesounds.net/
http://facebook.com/substancesounds
http://twitter.com/substancesounds