PROGNOSIS @ Loop – Dec 17th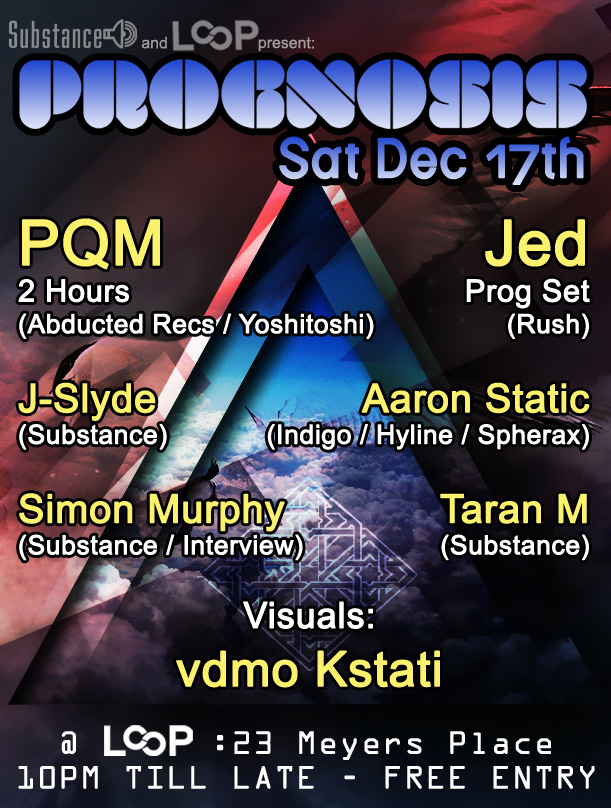 One year on from their first event under the Prognosis banner, with no sign of slowing down, the krew are getting set to celebrate the only way they know how – hot beats, tasty beverages, and shenanigans a'plenty!
Intent on doing something special for such a momentous occasion, we couldn't think of a better artist to headline and celebrate Prognosis' first birthday than NYC protégé come Melbourne beat wizard, PQM. With a DJ and production career that dates back to the early 90's, PQM has a vast musical knowledge that will no doubt be used to good measure. With the opportunity to flex his musical muscles over a two hour feature set, PQM is set to delve into his extensive collection of tunes to deliver a set of truly epic proportions.
After turning the FB world green with envy over his international exploits, local trance favourite Jed returns from overseas and will be stepping up to the plate to play his first ever 'non-trance' set. As part of Rush with events pushing techno and progressive alongside trance, Jed is well versed in the sounds that will no doubt whip Loop into a frenzy.
Substance kingpin and crowd favourite Taran M returns from quasi-retirement to get amongst the lunacy as he lays down the sweetest of beats and other tasty treats from his repertoire. Rounding out the night will of course be the Prognosis residents J-Slyde, Simon Murphy and Aaron Static. Expect the unexpected as the three continue their musical missions into melodic madness.
No Prognosis would be complete without captivating, hypnotizing visuals which will once again be provided by Vdmo Kstati. With a booking schedule jam packed with festival and club events, the forever growing arsenal at this VJ's disposal will ensure the night has an extraordinary audio visual feast!
LINEUP:
PQM (Yoshitoshi, Abducted Records), Jed (Rush), Taran M (Substance), J-Slyde (Substance), Simon Murphy (Substance), Aaron Static (Hyline, Indigo, Spherax)
VISUALS:
vdmo Kstati
WHEN:
Sat, 17th December
WHERE:
Loop – 23 Meyers Lane, Melbourne CBD
COST:
FREE!!!!