RENAISSANCE ft Dave Seaman (UK) & Jody Wisternoff (UK) ~ Oct 7th
Just confirmed that i'll be supporting at the upcoming Renaissance event in Melbourne! Handled by Darkbeat, this will no doubt be a killer night. Expect great music, top of the art production and a fantastic crowd. I have limited industry tickets on me, so if any are keen, hit me up asap! tickets@substancesounds.net – else, i'll see you on the dance floor!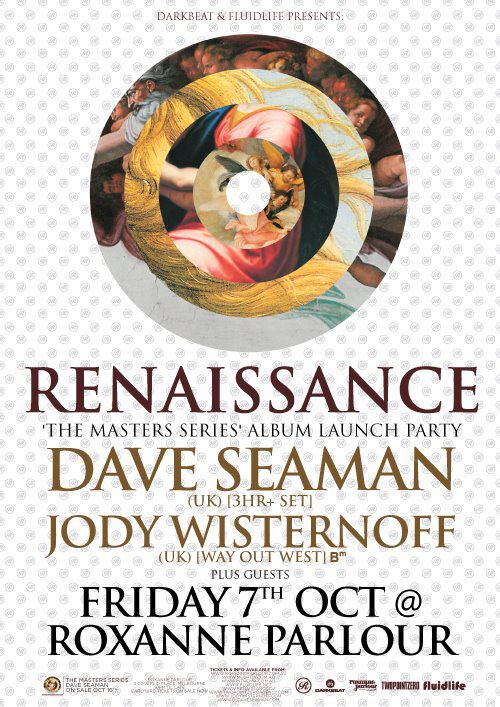 Lineup:
Dave Seaman (UK)
Jody Wisternoff (UK)
Kasey Taylor
Rollin Connection
Darius Bassiray
PQM
Mish'chief
Dave Juric
James Brooke
Lister Cooray
Simon Murphy
Alam
J-Slyde
Jon Beta
Kultrun
Drew K
Phil Moore
Walter Juan
Phil Watkins
Andrew Slattery
Miza
JVD
Venue: Roxanne Parlour Level 3 2 Coverlid Place Melbourne 3000
Album Details: Renaissance Master Series – Dave Seaman – On Sale Oct 10th
Doors: 10pm – 5am
Tickets: EARLYBIRD TICKETS AVAILABLE NOW – ONLY $25+BF (Limited)
Tickets: Available from: www.roxanneparlour.com.au , www.moshtix.com.au , www.fluidlife.net , and in store at moshtix outlets.
More info at:
www.moshtix.com.au // www.roxanneparlour.com.au
www.inthemix.com.au // www.fluidlife.net