Rennie Pilgrem & Lee Coombs – July 20th @ RMH
Friday 20th July see's two of breaks heaviest of heavy weights grace our humble city. To say I am amped would be a serious understatement. Rennie Pilgrem and Lee Coombs have long been big favourites of mine ever since I first got into the genre. Adding to the madness, local legend Phil K is set to deliver a very special feature breaks set – I actually can't remember the last time I heard him smash out some breaks, and being one of the local acts that originally got me into the sound, I'm honestly quite excited. Needless to say, this is going to be a big one! Read on for full details, lineup, etc…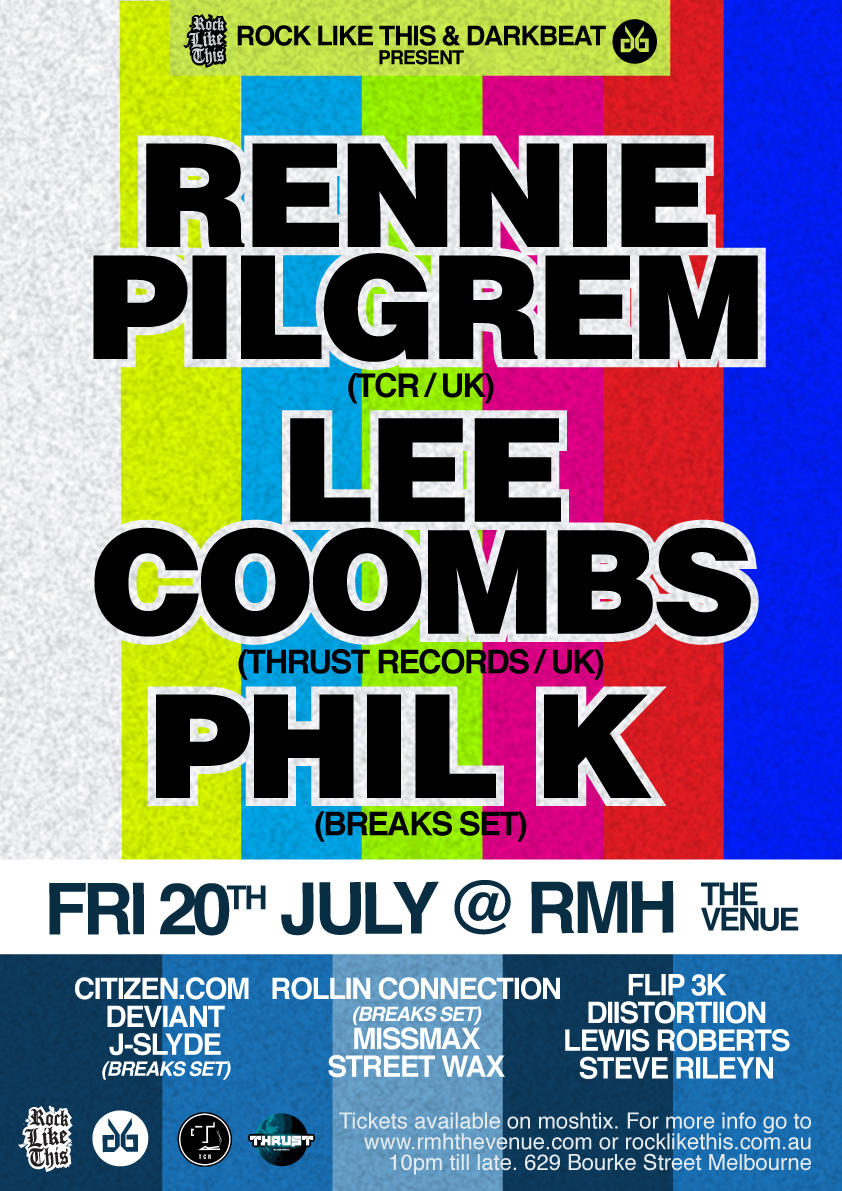 Rock Like this and Darkbeat are very proud to present TWO of the biggest Break-beat aficionados, and now purveyors of the Future Jungle and Tech Funk-Acid Scenes respectively – Rennie Pilgrem (UK) & Lee Coombs (UK). All while alongside our very own home-grown legend of the breaks world and our very special guest, the one and only PHIL K for a very special breaks set, which will surely be something not to be missed.
Over the many years, all three acts have tirelessly invented and re-invented their various styles of music, taking their fans on a long journey through old school break beats sounds to their current direction in Music:
RENNIE PILGREM (UK)
Rennie Pilgrem has been at the heart of many aspects of the bass n beats scene. From his early work with "Thursday Club Recordings" (TCR) producing Breaks, to his current work in what is becoming one of the freshest-growing genres in dance….Future Jungle (aka Nu Jungle, Jungle breaks, 140). This musical hybrid bridges the gap between Dub Step, Drum n Bass and Breakbeat and is attracting the attention of punters and DJs alike who have the spirit of Rave and Jungle in their DNA.
LEE COOMBS (UK)
Lee Coombs made his first massive strike on the breaks scene on Finger Lickin' Records in 1998. Moving quickly up the ranks of the world stage charting the way of Tech Funk, injecting the Breaks sound with butt-shaking elements of House, Electro and Techno. It was a style Coombs would make his own, alongside fellow innovators Meat Katie, Elite Force and Dylan Rhymes. Now focusing on this new style, with releases on his own label "Thurst recordings" and "Lot 49", Lee Coombs' unwavering ability to simultaneously destroy dancefloors and push musical boundaries over the past 20 years will no doubt have him his impressive sonic skills will be rocking ears for many years to come.
PHIL K (AUS) [Breaks Set]
Phil K will be set to blow the roof off of RMH, while revisiting such a HUGE range of absolute 'Gold Records' spanning over 15+ years worth of Breaks, so be warned & prepared for the some Awesomeness!
Put all three of these world class producers/DJs under the same roof with a long list of huge local producers and DJ support, and add it into a new party venue for the crew at Royal Melbourne Hotel and you are sure to have yourself one of the best retrospective nights of top shelf music covering all styles from Breakbeat, Future Breaks, Dubstep to Tech Funk, Acid and Techno. So make sure you do not miss this HUGE double bill show as two such acts are unlikely to be in the same place at the same time again any-time soon.
Rock Like This and Darkbeat Present.. The Sounds of Future Breaks and Tech Funk- Acid with Rennie Pilgrem (UK) + Lee Coombs (UK)
Friday 20th July @ Royal Melbourne Hotel (RMH The Venue)
SUPPORT:
Citizen.com, Rollin Connection (Breaks Set), Devaint, Flip3K, Diistortiion, Street Wax, J-Slyde (Breaks Set), Missmax, Lewis Roberts, Steve Riley
TICKETS:
Industry tickets: tickets[at]substancesounds[dot]net
ADDRESS:
RMH (The Venue) – Royal Melbourne Hotel
Address: 629 Bourke Street Melbourne
Ph: (03) 9629 2400