ROBO-TECH presents REBOOT – March 28th @ Camino
The Robo-Tech krew have been nice enough to invite me to provide beats at their upcoming REBOOT gig on March 28th. The boys have been putting on fantastically wholesome local events for quite some time and this is a big step up for them with two international guest DJs from Germany headlining. These guys really get the whole "party" vibe and are in it for all the right reasons; a quality vibe and great music. Plus my partners in crime Simon Murphy, Aaron Static and Alex David will also be dropping some beats. So combine that with the rest of the hugely talented lineup and you have the recipe for one truly crazy evening! Anyway, read on for full details!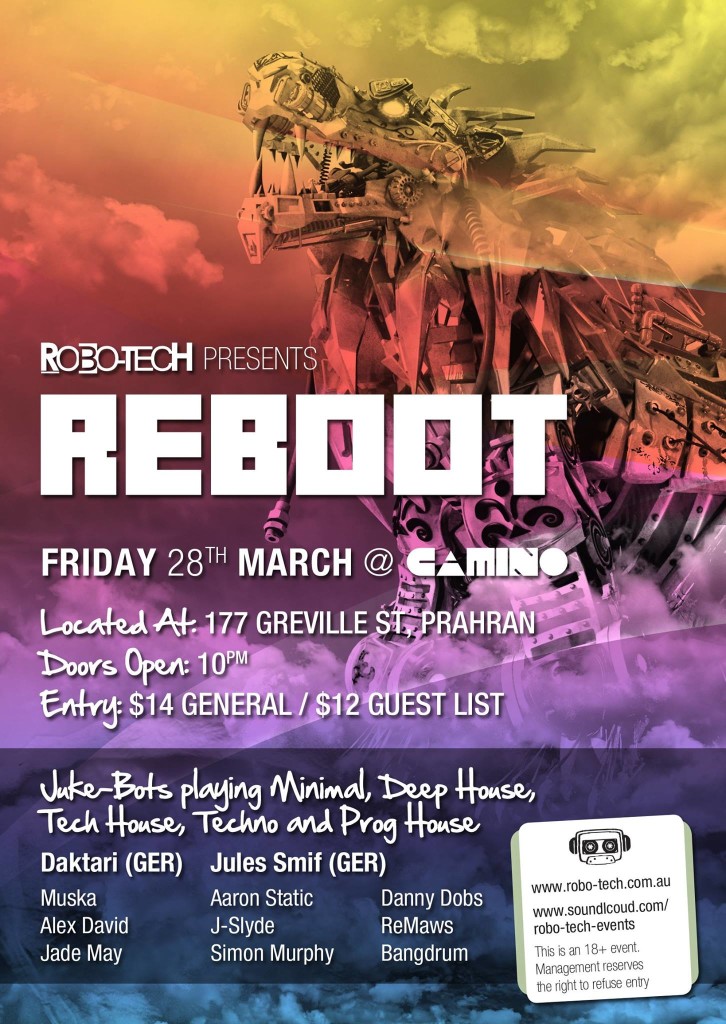 After the installation of a required update we've had to Reboot the system.
We've had to recalibrate and synchronize certain aspects of the inner workings as to ensure easier functionality.
We are back online and are looking forward to you joining us on our mission.
The following Juke-Bots will be playing styles such as Minimal, Deep House, Tech House, Techno and Progressive House:
WHEN
March 28th – Doors open at 10pm
WHERE
Camino – 177 Greville Street, Prahran
$15 Entry
$12 Guest list
FURTHER INFO
www.robo-tech.com.au
www.soundcloud.com/robo-tech-events