Samsara Launch Party – Aug 30th @ La Di Da
Super stoked to be included on the line-up for Samsara's launch party! This will be the first time I've played for the Samsara krew, so I'm quite keen on putting forth something really special and making a good impression. Pre-sale tickets are online and now available to book – you'll save $5 if you book online, but there will also be tickets available on the door for those of you last minute deciders. Full writeup and more info below! Hope to see you there!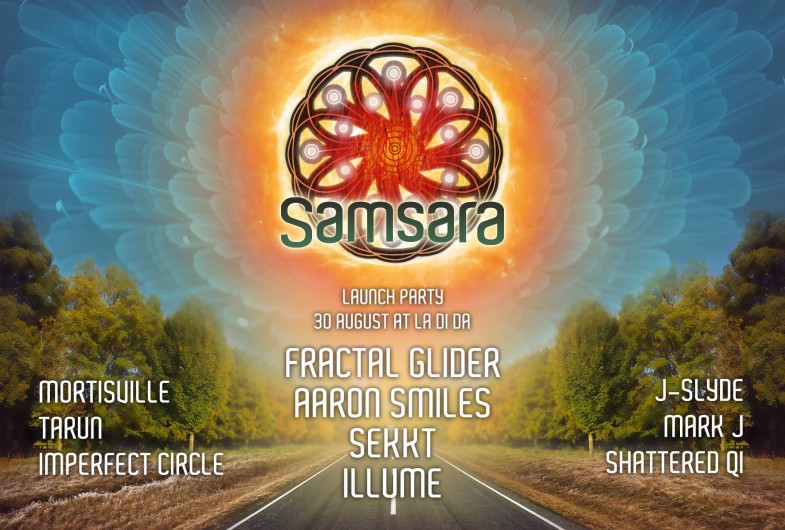 It is our honour to welcome Spring with this special event. Join us as we warm things up and get excited for the bright times ahead.
We're bringing the big-hearted spirit of the small bush doof home to the city, casting off the dreariness of Winter will be easy!
La Di Da, like you've never seen it before, adorned in our signature Samsara decor, stunning visuals, lasers and music over two fantastic rooms. Enough excitement to have you lusting to run straight into the forest and howl at the moon!
The main event is only a couple of months away so let's get those wild spirits spring cleaned and ready to rejoice! Join us as we begin our journey down a road that leads to the forest. The doof is visible on the horizon.
Samsara Doof 2014 – October 18-19- put it in your calendar!
TICKETS
Pre-sale: $15 +bf via EventBrite
On the door: $20
WHEN
August 30th – 10pn till late
WHERE
La Di Da – 577 Little Bourke st, Melbourne, Victoria, Australia 3000
LINEUP
Fractal Glider
Aaron Smiles
Sekkt
Mortisville & Friends
Illume
Imperfect Circle
Chromatone
J-Slyde
Shattered Qi
Tarun
Mark J
+ More!