Sasha Le Monnier @ My Aeon – June 24th
VERY amped about this one! Miss Le Monnier has been on my radar for quite some time. After making waves in the UK and Europe and bumping out a bevvy of high quality releases, I was well interested in hearing the rumours that she might be gracing our shores – imagine then my surprise when the boys at LockNLoad asked if I'd like to support!
For those unfamiliar with her, there's a mix below that pretty much sums up her sound. All the night will cost you is $10 if you can get down before midnight. Extremely cheap for an international of this caliber! Read on for full details.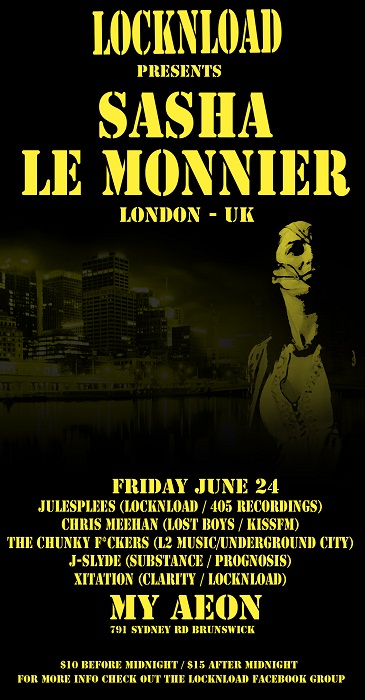 Sasha Le Monnier is from Jersey, Channel Islands a female dj of 14 years who has successfully run and co-managed 4 nights over the years in her native island. Her flawless mixing and superb track selection also taking her further afield with dates in Europe, U.S as well as London playing clubs like Ministry Of Sound, Kiss Nightclub and The Code' [ Subotica – Serbia] a gig that was highly publicized covered by both magazine and television.
In 2010 Sasha released her first solo productions 'Inspired By Those' on label Source Of Gravity Digital and also her Soundscapes Vol 4 Album released in Nov 2010 with 10 Exclusive tracks including a brilliant remix from Steven McCreery [ The Tunnel/Arches – Scotland ] . Early 2011 seen more releases on labels like WeContinue Digital, Tactal Hots Music and also Stripped Digital with top support coming from Nick Warren, Hernan Cattaneo, Ken Fen ,Kassey Voorn, Andy Newland, Luciano, Seb Dehajje, Kevin Shiu, Omid16B, Michael Paterson, Graham Gold, Cid Inc. and many others!
Since 2005 Sasha has pushed her sound on the net radio with 4 stations monthly, on Proton Radio,Danceradioglobal, DI.FM [Digitally Imported]and ensonicradio, here she has secured many a guest mix from some of the worlds most elite including Chris Lake, Paolo Mojo, J&S project and Parallel Sound, Anil Chawla , King Unique, Tom Stephan (Superchumbo), Ricky Stone Derek Howell and 16Bit Lolitas to name but a few!
We can safely say, she is one of the hardest working female dj's you will come across, whether it be her mixes you hear or her productions, she will continue to push her sound to a club near you… very soon!
http://www.djsashalemonnier.com/
Price:
$10 before midnight / $15 thereafter
Where:
My Aeon – 291 Sydney Road Brunswick
When:
June 24th
With local Support from:
Jules Plees
Chris Meehan
The Chunky F*ckers
J-Slyde
Xitation