SHAVE RAVE 2014 – March 21st @ CBD Nightclub
I'm feeling extremely humbled that Team Chloe's Wish have asked me to be apart of their SHAVE RAVE fundraiser. Raising funds for the Leukemia Foundation in memory of their beautiful friend, Chloe "Kinkiraver" Le Tran, who sadly lost her fight to cancer in 2011 – the team are putting on this fantastic nightclub event where all proceeds from the door will be donated to the foundation, along with proceeds from a huge raffle and a shave/colouring. An extremely worthwhile cause, I'm truly honored to be apart of it all. The lineup is chock full of some of Melbourne's finest DJs spanning a huge variety of different sounds. And adding to all that my partner in crime, Taran M, will also be making an appearance on the decks – which should be reason enough to get your ass down! Anyway, read on for all the juicy details….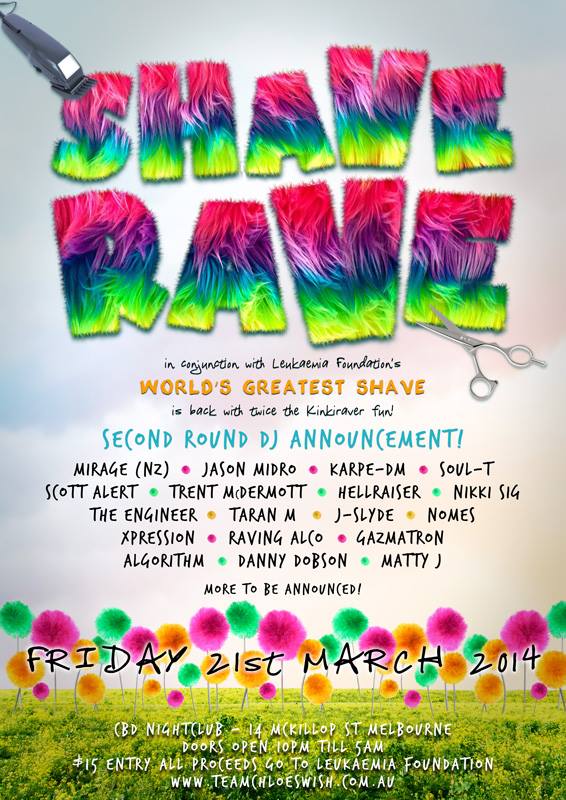 SHAVE RAVE is bouncing back in its second year – if you were ever lucky enough to attend one of the 3D World's Greatest Shave events at CBD Nightclub in the past, you know the fun that is to occur. If not, strap in and get your dance moves ready!! We are gonna rock the joint in true Kinkiraver style.
For those of you who didn't have the pleasure of meeting and experiencing just who Chloe "Kinkiraver" Le Tran was – she was a bright, shining, pocket rocket who danced her little, bird flipping butt on every dance floor Melbourne offered, making friends with everyone who crossed her path. She was always the host of the 3D World's Greatest Shave because of her childhood victory over Leukaemia. Unfortunately in 2011 Chloe found out her battle was to begin again and on 3rd January 2013, after a long battle, she left us to teach the angels to do the Melbourne Shuffle.
Once again, we return to the dance floor and in her honour, we WILL SHAVE and we WILL RAVE! Your favourite DJ's will grace the decks again to get the party pumpin'. All proceeds from door, the shaving/colouring and the raffle will be donated directly to the Leukaemia Foundation. All donations, and your cover charge are tax deductable.
SPINNING TUNES FOR YOUR DANCING PLEASURE!
Mirage (NZ)
Jason Midro
Soul-T
Scott Alert
Trent McDermott
Hellraiser
The Engineer
Xpression
Matty J
Raving Alco
Gazmatron
Algorithm
Nomes
Taran M
Karpe DM
J-Slyde
Nikki Sig
Danny Dobson
Cadron Hallider
Plus more to be announced.
$15 on the door. Strictly 18+ event. Management reserves all rights.
If you register to shave on the night we will be taking a $10 Registration fee (Tax deductible) and if you want to colour on night it will be a simple $5. Anyone wanting to donate to Team Chloe's Wish can donate at http://my.leukaemiafoundation.org.au/teamchloeswish. Check facebook page for more details: www.facebook.com/teamchloeswish
Chloe's Wish was for a world without blood cancers, let's help make it a reality and have a damn good time while we do it!!!