SPACE POD – Feb 4th @ Syn Bar
The Stereo Monkey krew have invited me down to help headline their new weekly Friday night event, SPACE POD. Concentrating on the more upbeat side of Electro and House, this is one for those that like to PARTAY!
I'll be playing a peak-time Electro-House set that will strip paint. So bring your best dancing shoes and dirtiest of bass-faces, cause shit is going to get HECTIC!
Full details below, hit me up for guest list!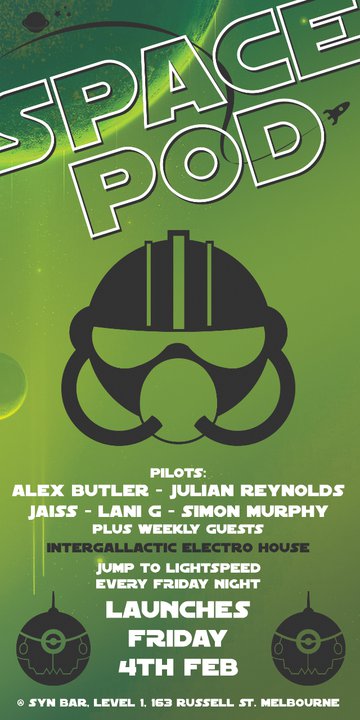 Stereo Monkey is proud to announce its new weekly club night.
Space Pod is here to rock you every Friday night with some of Melbourne's coolest and best DJ's pumping house, electro and even some techno. This is going to be out of this world…..
Regular DJ will include;
Julian Reynolds
Alex Butler
Simon Murphy
Jaiss
Lux
with Special guests every week
On the 4th Feb Space Pod will be pleased to host 'J-Slyde' of the Substance crew.
***********************************************************
– Venue –
Syn Bar
Level 1/163 Russell Street
Melbourne CBD
Victoria 3000, Australia
(24 hour parking available across the street)
Doors open at 9.30
$15 entry
$10 guest list
For group entry and guest list or any other general inquiries please email stereomonkey@live.com.au
Stereo Monkey
http://www.facebook.com/pages/Stereo-Monkey/168477379846214
Alex Butler
http://www.facebook.com/pages/The-Alex-Butler-Experience-Fan-Page/117425224994992
J-Slyde
http://www.facebook.com/jslyde
Substance Crew
http://www.facebook.com/substancesounds