TRUST US – NYE @ Brown Alley
To my absolute delight I've been booked to play at TRUST US on NYE at Brown Alley. I don't think I really need to go on too much about this event as the lineup speaks for itself. Forget all of those $200+ NYE/D events, this one is keeping ticket prices low and bullshit at a minimum. Just quality acts, an awesome set-up and a great vibe. Last year's TRUST US event, which was held on NYD, was absolutely mind blowing – I attended as a punter and had a really fantastic time. Music was on point, detail to production and sound was exceptional and the crowd was awesome.
Anyway, full lineup has just been announced and it is immense. There's seriously something for everyone, from breaks, to prog, to electro, to house, to tech, and everything else in-between. The musical spread they've got going on is bound to impress even the hardest of chin-strokers out there! And the local lineup is the creme-de-la-creme of the Melbourne scene.
At this stage Im not sure what time I'll be playing, so I'll drop another post close to the date once its announced. For the time being you can drool over the lineup. For any interested in coming make sure you get onto tickets asap as they are set to sell out.
Full details below!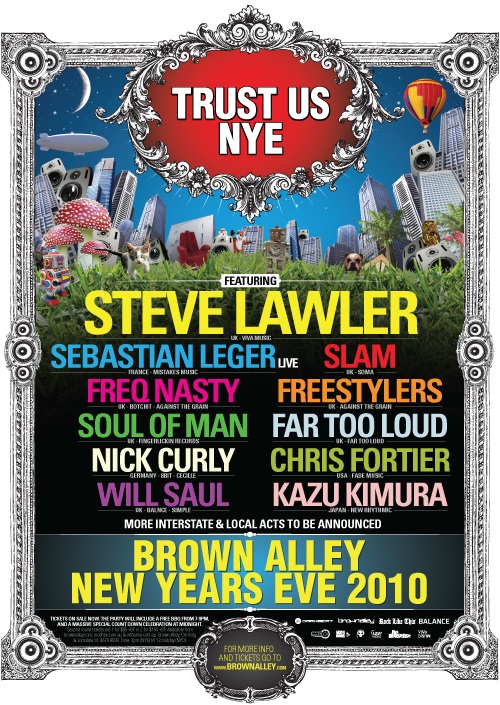 The third and final round of announcements is in for TRUST US.  We are very pleased to announce Steve Lawler is back in Melbourne for New Years Eve.  In his own words "No Nonsense was my favorite Australian club gig ever" so he has chosen to spend the new year with us all !  He is incredibly in demand for New Years Eve, so you can all give your selves a pat on the back with the knowledge you made it happen !!
Darkbeat favorite Chis Fortier is a pleasure to anyone's ears, with an attention to detail for intricate house music like no other Melbourne crowds are always treated to a professional in ever sense of the word.  Again Chris personally requested Brown Alley for his exclusive NYE show – we are over the moon we all once again get to spend it with him.
Techno lovers will be pleased Kazu Kimura will be playing exclusively for Trust Us on New Years Eve as well, a firm favorite of traditional techno lovers – we have something really special planned for Kazu and Melbourne's local DJ techno elite !  More info on that soon.
Now with a party of this scale there is some important information you need to know. Forget the overcrowding, forget the pretentious punters, forget the $200 + entry fee only to see 1 hour international DJ sets, – its time to keep it real. Darkbeat, Sunny, Against The Grain, Mixed Messages, Rock Like This, and Brown Alley's favorite crews have secured a line-up representing all that is quality underground electronic music.
We will be bringing you a FULL festival line-up at half the price, easy bar and toilet access, no lines, all backed by the sound systems you expect, with the set-time lengths you demand and with the quality crowd you want to party with. Don't quote us on this, but we think this could be the largest international DJ lineup in a nightclub ever assembled in OZ ! ??? Forget the BULLSHIT, lets party NYE !
It is very important that you give your self enough time to arrive in the city, as its NYE we highly suggest you arrive early to avoid missing out or getting stuck in the rif raf 😉  Car parking, trains, and taxi's will be on high demand on NYE thus the earlier you arrive, the better off you will be.  We will have international DJ's playing before 12 Midnight to get the party jumping, plus if you arrive early you will get a FREE CD Giveway !
PLEASE NOTE THE 3 AM LOCKOUT HAS BEEN LIFTED ON BROWN ALLEY, YOU CAN COME AND GO AS YOU PLEASE !  EXCELLENT NEWS !!!!!!!
We are going all out, the party begins at 7PM where we will give you a FREE BBQ with relaxed beats, to get your appetite ready for the rave, plus between 7 and 9 we will have a plenty of drink specials for you to encourage the festivities.
Now 2 main reason to arrive early – the true legend of deep hypnotic house STEVE LAWLER will be playing a MIDNIGHT DJ Set in the downstairs main room.  We couldn't think of anybody better to welcome in 2011, there will be a full NYE countdown celebration with a killer production surprise.
Breaks lovers – we fought long and hard for a DJ worthy of playing the MIDNIGHT DJ slot in the upstairs Blights Bar, and we have secured the man with the best stage presence going round, the legend – FREQ NASTY.  You will struggle to find a better act who commands respect from not only breaks lovers but anyone into electronic music.
Sound quality will be PARAMOUNT. The team who knows how to tune a Marin and Nexo Rig will be running the show!
Each room will be fully transformed with all rooms getting extra sound, quality décor, plasma rigs, confetti popper explosions in the main room and Blights Bar, and the Garden Bar will be hosted by the world renowned BALANCE series, with the DJ booth being moved to the centre of the room and a full Nexo Rig being brought in !
The party will be goin to the EAAARLY hours of NYD, and most importantly you can TRUST US we will get the set times right ensuring you can see all the acts you want spread out over the entire evening / day.
Now to the most important part.  The Line up !
INTERNATIONAL LINEUP:
Steve Lawler (UK)
Sebastian Leger LIVE (FRA)
Slam (UK)
Freq Nasty (UK)
Freestylers (UK)
Soul Of Man (UK)
Far Too Loud (UK)
Chris Fortier (USA)
Nick Curly (GER)
Will Saul (UK)
Kazu Kimura (JAP)
LOCAL LINEUP:
Gavin Keitel
Dave Pham
Rollin Connection
Matt Radovich
Muska
Sam McEwin
Dean Millson
Alam
Lister Cooray
Jon Beta
Rich Wool (QLD)
Matt Gatt (SYD)
James Betham (CAN)
Hans DC
Dave Juric
Tahl
Caine Sinclair
Lady Liquid
Phil Moore
Citizen.com
Flip
Diistortiion
Deviant
Paul Beynon
Craig Pringle
Fergus
Silver Six
Kenan
Damir
Sam Bentley
Shifty Sly
Shane Cooray
Woz
Lucca
Dantrx
Snowie
JD
Miss Max
Jane Daffy
Dstract
Abstar
Coops
Tbib
Hoops
J-Slyde
Volta
Louay
Early Bird Tickets have now SOLD OUT
Second Round Tickets can be purchased for:
One For $85 +BF
Two for $150 +BF
Please click here http://www.moshtix.com.au/event.aspx?id=41492
SAVE MONEY !!
Get your Trust Us tickets from behind the bar at Brown Alley
NO BOOKING FEE !
TRUST US NYE @ Brown Alley
Cnr King and Lonsdale St, City
7 PM (NYE) till 12 Midday (NYD)