UNITED MUZIC – 19th Dec @ RMH
I've been lucky enough to land a gig at a new monthly night which is focusing on bringing together local Melbourne talent. The initial lineup is one of the strongest local bill's I have seen for a very long time and should spark interest in those who have been paying attention to the local EDM scene. Needless to say, im amped to be apart of such a talented group and urge everyone to make it down to the launch event on Friday 19th November.
Full details below 🙂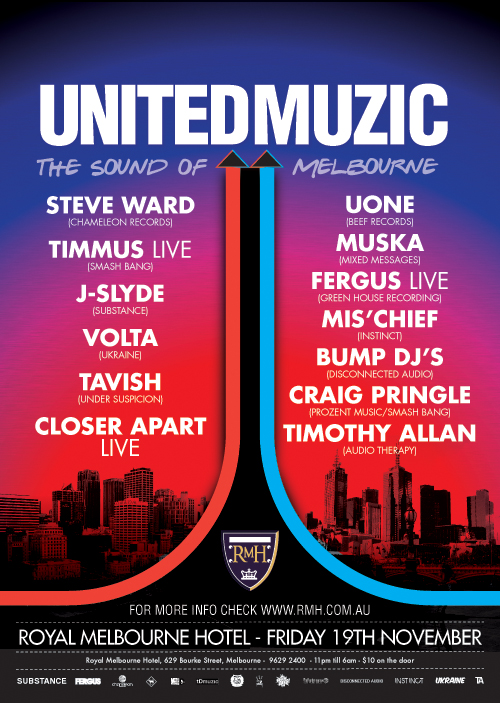 UNITED MUZIC
The Sound of Melbourne
Friday 19th November 2010
The Royal Melbourne Hotel
United Muzic 'The Sound of Melbourne' debuts at The Royal Melbourne Hotel on Friday 19th November. Drawing together Melbourne's local dance community, the night will showcase the cutting edge electronic scene together with Melbourne's vibrant culture, to produce a collective experience not to be missed.
Expect to see: world-class DJ's, music producers, artist promoters and event organisers from the Melbourne scene.
Without a doubt United Muzic, will depict the abundance of talent and eclectic music lifestyles that Melbourne has to offer.
This night will proceed on a regular basis and rotate your favourite artists monthly to every 6 weeks. So stay tuned and be apart of United Muzic.
Initial Line up:
Uone (Beef Records)
Muska (Mixed Messages)
Steve Ward (Chameleon) records
Timmus LIVE (Smash Bang)
J-Slyde (Substance)
Bump Dj's (Disconnected Audio)
Volta (Ukraine)
Tavish (Under Suspicion)
Closer Apart LIVE
Fergus LIVE (Green house Recording)
Mish'chief (Instinct)
Craig Pringle (Prozent music/Smash Bang)
With VJ PiedPiper providing visuals.
For more information go to rmh.com.au

One Comment