Unstable Sounds – Boxing Day @ Loop
Unstable Sounds are putting on a massive Boxing Day event at Loop, and when I say massive I mean FUCKING HOOOOOOG! They've asked every DJ that has played for them over their time at Loop, which is well over 40 of the finest electronic music purveyors Melbourne has to offer. Slapping them all under the one roof over several hours, and free entry, this is set to be one solid evening.
Your Boxing Day evening is now sorted. Full deets below!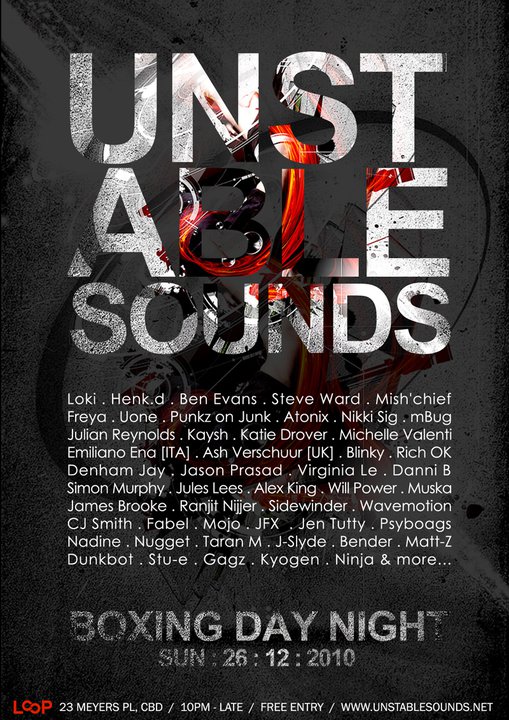 UNSTABLE SOUNDS presents…
"BOXING DAY (NIGHT)" : 2yr CELEBRATION XMAS BASH!"
SUN 26TH DEC @ The Loop Bar
…Boxing day is that day of the year when you always find yourself bored as hell because nothing is open. Well not this year! Unstable sounds is presenting a momentus epic feast that will blow your mind.
Over the last 2 years, Unstable has brought over 50 of Melbourne's finest underground DJ's to the stage at The Loop Bar and various other clubs. Tonight, for one night only, Unstable is inviting EVERY DJ that has ever graced our stages and brought the noise, to play together on one stage, in one club, on one night! MADNESS ALERT!
Pounding techno, slamming beats and progressive insanity! Alongside the most awesome visuals you'll ever see on two 20ft screens, brought to you by the creme-de-la-creme of VJ's: Kyogen & Ninja.
We hope you'll join us in celebrating these Christmas festivities, Unstable style, this Boxing Day (night)! All for FREE, all for you! Not to be missed…
Unstable's Favourite DJ's:
————————–
Loki . Henk.d . Ben Evans . Steve Ward . Mish'chief
Freya . Uone . Punkz on Junk . Atonix . Nikki Sig . mBug
Julian Reynolds . Kaysh . Katie Drover . Michelle Valenti
Emiliano Ena [ITA] . Ash Verschuur [UK] . Blinky . Rich OK
Denham Jay . Jason Prasad . Virginia Le . Danni B
Simon Murphy . Jules Lees . Alex King . Will Power . Muska
James Brooke . Ranjit Nijjer . Sidewinder . Wavemotion
Fabel . Mojo . JFX . Jen Tutty . Psyboags . Nadine . Nugget
Taran M . J-Slyde . Bender . Matt-Z . Dunkbot . Stu-e . Gagz
cTrix & more…
Unstable VJ's:
—————-
KYOGEN & NINJA
Come support the new evolution of creativity and unstability! Turn it Up!
See you there!