White Noise… LIVE ~ Sat, 7th May @ First Floor
Just been booked for the next White Noise event! Pretty amped to be apart of such an awesome krew. They've been doing great things for the past year with a selection of high quality events under their belt. This upcoming event, 'White Noise Live', pairs up DJs and live performers. I've been paired up with a live Bassist, which im extremely excited about! I'll be playing a breaks set with heaps of funk – so make sure you wear your dancing shoes!
Full details below.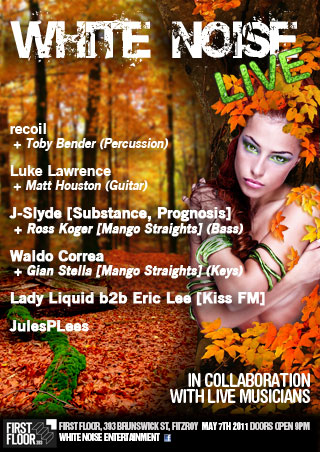 MAY 7, 2011 — WHITE NOISE… LIVE — FIRST FLOOR 393 BRUNSWICK
This time, it's different.
Covering uncharted territory, the White Noise crew bring a spectacular variety of musical entertainment… but with a "live" twist.
An evening w/ an array of Melbourne dj's collaborating with live musicians throughout the night
As always, the White Noise folk will cover every dance genre worth getting off the couch for.
Ranging from Progressive to Deep House, Techno to Breaks, even breezing by Minimal, Tribal & Funk.
We're very proud to welcome two members of "Mango Straights" to join forces w/ the White Noise crew: Ross Koger on the bass guitar, and Gianfranco Stella on keys.
Climbing down from the walls of his latest Prognosis and Substance events, J-Slyde joins us alongside Ross.
The enigmatic and powerful Waldo Correa will be accompanied by Gian.
White Noise residents Luke Lawrence & recoil return alongside percussionist Toby Bender and guitarist Matt Houston.
Local favorites Lady Liquid will be going back-to-back with Eric Lee, of KISS FM fame, to deliver 2 hours of Deep House & Progressive beats.
JulesPlees rounds up the pack, bringing the night to a fitting end.
Stunning visuals presented by our very own VJ
Doors open at 9pm — close at 5am
$5 entry between 9 and 10pm // $10 after 10
You read propah, folks.
$10 DIRT CHEAP entry for a whole night of unmatched entertainment !!